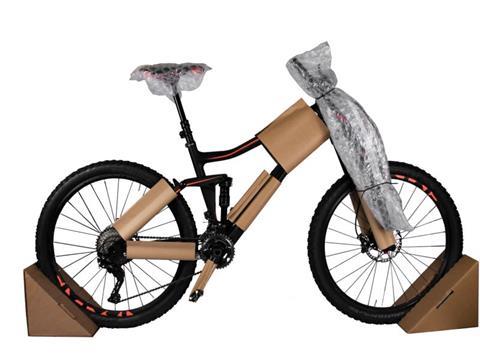 PackSynergy, will be exhibiting at FachPack in Nuremberg from 25th to 27th of September on an enlarged area in Hall 6-211.
On the occasion of its 20th anniversary, the network will be focusing on machine solutions, load safety, best ways to pack and ship industrial goods and special solutions, for example for bicycles. The network also provides a special offer for other wholesalers who would like to counteract the pressure of investor conglomerates and multi-branching with a successful alternative.
14 regional market leaders from Denmark, Germany, Finland, the Netherlands, Poland, Sweden, Slovenia, Spain and the Czech Republic form the PackSynergy network with over 35 locations. Since it was found in 1998, the association of medium-sized entrepreneurs has been able to look back on continuous growth, as CEO Thomas A. Baur confirms with one restriction: "We are not looking back, but moving forward. But we have the experience of 20 successful years back. It strengthens the network, is an important basis for its reliability and impressively demonstrates the added value for members and customers. "
Processes, Machine Solutions, Automation
At the FachPack 2018, the network presents itself on an enlarged area. "For example, we can make our competence for process, machine and automation solutions around packaging even clearer," says Baur, who is also looking forward to new products from renowned suppliers such as Sealed Air, Maillis/Siat, FP International, Ranpak and Fanuc. "From Fanuc, for example, we show the collaborative robot CR-4iA, which with its extreme compactness is ideal for packaging in a tight space," says Baur.
Load SecuringAnother focus is on cargo security. Here the network presents its digital measuring system for the objective verification of the required load security when using stretch film. "We offer the measuring system as a service, which means for customers that they do not have to invest to improve their cargo safety. On the contrary: By optimizing the measuring system, we enable our customers to save up to 50 percent on their material, "says Mr. Baur.PackSynergy member Wepa Verpackungen also offers basic training in load securing with its technical "Melior seminars". "We want to sensitize all logisticians to devote themselves even more to safety on the road, sea and airfreight traffic - because the load securing does not only start taking place on the loading area," explains Dirk Dietzel, Managing Director of Wepa Verpackungen. In addition, Dietzel draws attention to the new EU Directive 2014/47 on load securing of transport packaging, which has been in force since May 2018. "It requires every cargo to be tested and certified for its cargo stability. At the same time it transfers the liability of the transport companies to the client ", says the Wepa-managing director.
Special solution for bicycles
According to the managing partner Thomas Horna from the network member Horna Verpackungen is "Europe's leading packaging wholesaler in the field of bicycle packaging been operating successfully on the market for more than 20 years". Under the slogan "Take a ride on the safe side", Horna offers tailor-made solutions for the packaging, padding and shipping of bicycles and wheels. "We have the right solution for every bike, we ship free of charge and we have bundled our offer online under the motto "Bike Packaging "," emphasizes Horna.
Opportunities for dealers
According to CEO Thomas A. Baur, the PackSynergy network provides a special offer as a whole - not only for customers, but also for others, owner-managed, regional market leaders from all over Europe.
"PackSynergy is the only successful alternative in the face of growing pressure from investor-driven large conglomerates and their affiliate strategy. In times of global, as well as national and regional networking, one remains a lone fighter on the track. Anyone who, as a medium-sized packaging wholesaler or logistics expert, does not want his company, his employees and his life's work to be dissolved in a conglomerate, needs a functioning, proven network based on personal trust, common interests, combined purchasing strength and strong know-how to present a vital counter model." At the fair, Baur hopes to establish new contacts with regional market leaders from all over Europe, but especially from Germany and Austria. "The cake is here - and at the round PackSynergy table, a few new partners are still finding their lucrative place," says Baur, adding: "Meeting point is in hall 6, booth 211."