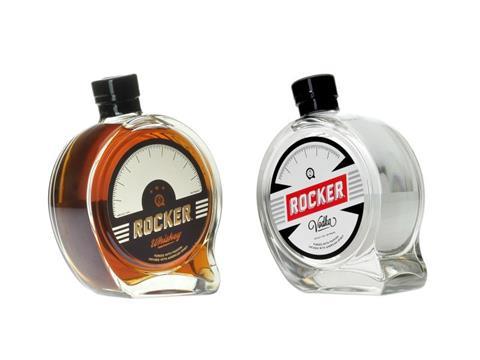 Driven by a unique brand vision, Rocker Spirits, a micro-distillery based in Littleton, Colorado, decided to work with O-I to create a bottle that "rocks", both literally and figuratively.
The goal was for the Rocker brand to transport the consumer back to a simpler time when we made things with our hands and had pride in workmanship and craftsmanship. For this product glass was the best material.
The design itself was based on a vintage oil can from the 1930s with a tilt feature for ease of pouring. "Rocker Spirits charged us to create an iconic bottle. How do you take the oil can? Keep the look, the feel, the attitude and transform it into glass", said Douglas Laib, O-I North America, Innovation and Product Design Group Leader.Dustin Evans, Co-Founder of Rocker Spirits, was impressed of the can do attitude of O-I and trusted the world's largest producer of glass containers. In several steps together, the teams created a special design that conveys Rocker's distinctive identity at first glance. "And the first time we were able to see the samples, feel it, touch it – that was an incredible day", said Pat Johnson, Co-Founder of Rocker Spirits.
Made of super-premium flint, the bottle conveys the high quality of the product while capturing the brand's retro vintage industrial personality.With a rounded shape flattened on two sides, the bottle has a distinctive off-center neck and finish, and as a counterbalanced weighted base a reinforced bottom with a bulge allows the bottle to be rocked forward and back for pouring. This off-center neck and finish adds complexity to the design and manufacturing process and requires expert technical craftsmanship to produce. Dustin Evans was happy with the result: "It's a little surreal, it's an idea come true."
"Rocker Spirits is a very good example of how we implement our experience in glass design to develop a bottle which perfectly matches the brand. It started with the customer's idea of a story the bottle was supposed to tell", said Steffi Lenz, Innovation Project Manager at O-I. "It is always important for us that our solutions are designed to provide added value – both for consumers and for brands that want to stand out within the competitive market."
More info: