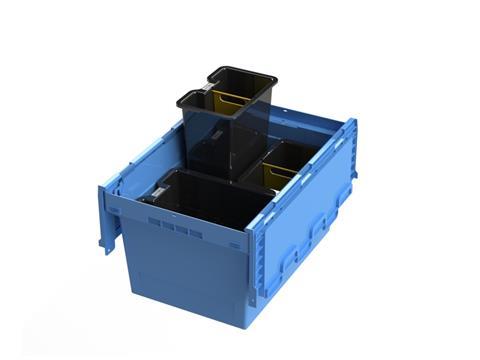 S&S Plastics unveils its Plastics Insert Tubs, a configurable storage solution reportedly made from 100% recycled polypropylene (PP), which it says can increase operational efficiencies, improve warehousing, and transform supply chain operations.
According to the company, the new insert can be placed inside storage and stack nester totes, allowing for up to eight separate SKUs to be fulfilled inside a single tote.
By enabling different sized SKUs within a single tote, this reportedly resolves supply chain issues such as totes being dispatched and transported while predominantly empty. S&S Plastics claims that this solution can boost efficiency by up to 800%.
In addition, the Plastics Insert Tubs are compatible with standard 600x400 totes, which, according to the company, means they can be used as an alternative to correx or cardboard inserts. S&S Plastics adds that the totes exceed the Global FM drainage standards.
Nick Bortone, managing director at S&S Plastics, comments: "Every day we are in contact with logistics and automation firms as part of our normal business routine, and so often we'd hear about issues with inefficiency and cross contamination.
"The S&S Plastics Insert Tub was the result of using those frustrations and our plastics moulding experience to come up with something innovative and ground-breaking.
"We've been delighted with initial uptake of the S&S Plastics Insert Tub; our order book has received orders for over 50,000 units in just a couple of weeks after a soft launch. It's truly testament to the scale of the problem and challenge that businesses have faced."
The tote solution also features integrated barcode tracking that apparently enables warehouse operators, logistic firms, and brands to trace products and boost service times.
Similar innovations include Antalis Packaging's recently-announced reusable pack designed for car parts, which uses divider sets, layer pads, and an insert to hold each part in position, and is designed to be durable and resistant to damp. The Loop platform for shopping, which uses refillable and reusable containers for items like laundry detergent, also uses a specially designed tote that can be separated, cleaned, and repaired to enable reuse.
Currently, supply chains are under pressure due to bottlenecks, raw material shortages, and challenges associated with the COVID-19 pandemic – which means innovations such as S&S Plastics's are timely and important, according to the company.
The S&S Plastics Insert Tubs are manufactured at the company's base of operations in Nottinghamshire, UK.
The tubs will also be on display at Stand 511 at the Robots and Automation show at the CBS Arena, Coventry, UK. The show will run on November 2nd and 3rd 2021.