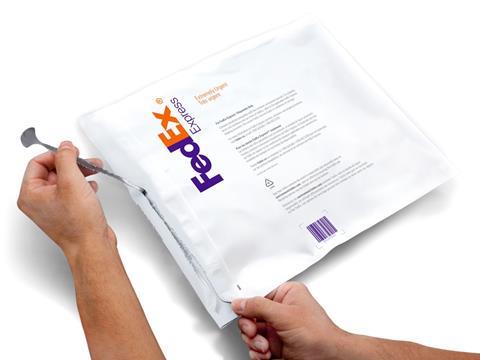 FedEx Express, a subsidiary of the FedEx Corp. transportation company, says it has completed the rollout of its FedEx Reusable Pack, which reportedly reduces waste and promotes reuse during returns for the European e-commerce industry.
The new FedEx reusable packaging portfolio was made available across Europe in July 2021, as a complimentary addition to right-size packaging solutions for new and existing customers
According to the company, the FedEx Reusable Pak is suitable for shipments up to 2.5 kg. It is available in sizes Small, Large, and Extra-large.
In addition, the packaging is resealable to facilitate e-commerce returns without added waste. A bubble-technology padding is also available as an option for customers, in order to add an additional layer of protection for products during transport.
FedEx claims that "extensive" performance testing was carried out on its reusable portfolio to ensure that the packaging maintains its quality on second use – for example, when consumers return an item – without the need to use additional packaging tape.
David Canavan, chief operating officer of FedEx Express Europe, comments: "The addition of reusable products to our packaging portfolio can pack a powerful punch if it promotes a positive shift in how end-user consumers think and behave.
"While eCommerce returns cannot always be avoided, we see a growing consumer awareness around reducing and reusing packaging.
"The Reusable Pak is one way we can make sustainable choices easier for our customers and their customers, by putting a solution that minimises packaging waste into their hands."
A recent report from Avery Dennison and The Future Laboratory suggested that sustainability within the retail sector was being driven partly by consumer attitudes, with an emphasis on return options that allow reuse or bundled options while reducing waste being needed to facilitate action. Some innovations already put forward by companies include Smurfit Kappa's eHealth & Beauty portfolio, which offers tamper evident features that apparently allow easy returns while also reducing the risk of a customer wishing to make a return due to product damage.