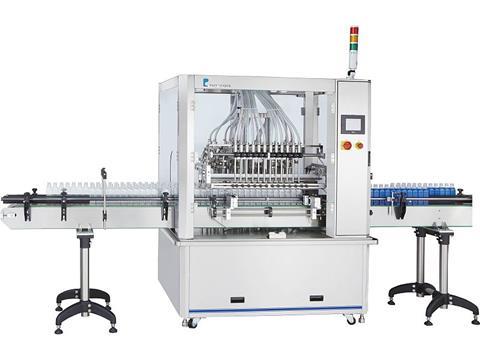 Advanced Dynamics Ltd will show a lot of bottle by debuting a complete new concept at this year's PPMA show in Birmingham, with a line-up of filling equipment designed to improve the liquid assets for businesses in a range of sectors.
The company's key player at PPMA is the high-speed FL-122 twin lane automatic filling system, sophistication at its best offering plenty of production advantages for the food and beverage, pharmaceutical, household goods, edible and essential oils industries. Ideal for large production runs, the FL-122's 12 filling heads can cope with a huge variety of liquids and oils - in fact any fluid that needs bottling at speed – saving packaging companies labour costs and reducing time to market, thus boosting profits.
Capable of filling thousands of bottles an hour, the FL-122 is easy to operate and boasts technical features including a drip detection system, holding mechanism to position the bottles accurately, no bottle-no fill system and bottle jam detection. The machine's flexibility is demonstrated by a choice of filling above the bottle or from below to eliminate bubbling of foamy liquids.
Advanced Dynamics will also be demonstrating the compact liquid fillers in the range. Offering complete flexibility for change-overs between container sizes, they are a doddle to operate and belie their small size by incorporating a treasure trove of technology to ensure a smooth operation.
Sales Director Tom Smith said: "Recent investment and expansion of our facilities has allowed us to significantly extend our stock of machines and to develop more bespoke solutions for specific requirements. PPMA is a great platform for us to demonstrate that, like our equipment, we are a new model moving with the times to offer every possible packaging solution."
Advanced Dynamics at PPMA Show 2018: NEC Birmingham, 25-27 September, Stand A30