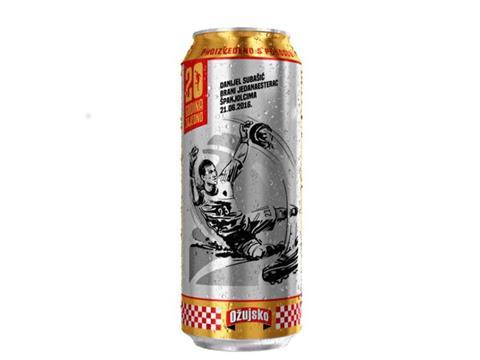 To celebrate the World Cup in style, Ball has collaborated with Ožujsko, part of Zagrebačka Brewery, to offer customers a new can design for their flagship lager.
As the share of lager in a can continues to grow each year, and with the World Cup representing one of the largest global football tournaments, Ball has worked with the team at Ožujsko to create an exceptional design to give customers the opportunity to toast the key sporting occasion in style.
The cans are a prime example of the incomparable printing potential of Ball's Dynamark™ variable technology, which allows customers to add graphic variety of up to 12 different visuals to their cans, without the added time or production difficulties once associated with the technique. For Ožujsko, Dynmark™ printing gives the cans a point of difference on shelf whilst utilizing football as a key pillar of inspiration.
As a sponsor of the National Football Federation, Ožujsko, one of the best-selling lager brands on the Croatian market, is celebrating the 20th anniversary of its partnership. The new design uses the 500-centiliter can's 360-degree canvas to depict key sporting moments and is now being sold in Croatia, Bosnia and Herzegovina. From the very beginning, Ožujsko was recognized among beer lovers as a beer for celebrations and as an integral part of the social life for the people of Zagreb.
Ivan Suvar, marketing and consumer excellence director for Ožujsko comments: "Ball was quick to demonstrate its expertise in printing, whilst advising on the best print performance for our cans, to bring our vision to life. This year marks a very important milestone for Ozujsko, which sees us celebrating our 20th anniversary of sponsoring the National Football Federation this year. Therefore, we wanted to do something special to mark the achievement, we are delighted with the result."