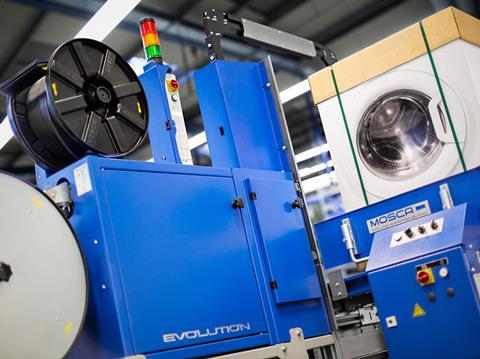 Thanks to open interfaces and proprietary software, modern strapping machines can be integrated in larger production lines and controlled centrally. Mosca GmbH is showcasing compact systems with high-performance machines and in-house conveyor technologies at LogiMAT 2019 from 19 to 21 February 2019. Three modular machines will be on display at Stand A37 in Hall 4: The EVOLUTION SoniXs MS-6, the EVOLUTION SoniXs MS-6 KR-ZV and the EVOLUTION SoniXs MS-6-H.
Mosca follows a modular principle in the development of strapping machines. Many of their machines are assembled from basic components, such as sealing units and motors, and supplemented by individual components including strap frames, enclosures or conveyor mechanisms to meet the needs of specific applications. This concept is exemplified by the EVOLUTION SoniXs MS-6 and EVOLUTION SoniXs MS-6 KR-ZV. These two fully-automated machines feature the EVOLUTION Standard-6 strap path with SoniXs ultrasonic sealing unit. The high-performance sealing unit makes the strapping machines ideal for high-volume throughput. The side position of the sealing unit also keeps it free from product debris. The Standard-6 strap path also adds real value when it comes to maintenance: technicians can easily remove strap path components and replace them with standard spare parts.
Specially designed for pallets and dollies
Mosca designed the EVOLUTION SoniXs MS-6 KR-ZV – the newest member of the EVOLUTION SoniXs MS-6 series – for dollies and smaller and lighter pallets. Compared to larger machines, this model features reduced strap tension at a lower price. This means that the machine does not require an enclosure and there is no need for the operator to go outside a safety zone prior to strapping. This speeds up production processes. The machine has a flap frame that can be flexibly adjusted in 200-millimeter increments for the most common product sizes. Thanks to its movable strap lance, the EVOLUTION SoniXs MS-6 KR-ZV is ideal for low products. The lance slides into narrow spaces below the product, e.g. between the wooden slats of a pallet. This model is also available with a tub as an alternative to the movable strap lance.
Flexible strapping of high and heavy goods
Joining the product line-up at LogiMAT in Stuttgart is the EVOLUTION SoniXs MS-6-H, which also comes equipped with the proven Standard-6 strap path. This horizontal strapping machine handles bulky and heavy packages with ease. Its vertically movable frame straps products ranging from refrigerators to furniture in variable heights for secure transport. The touch panel enables operators to program and recall up to 10 strapping routines. With up to 180 triple strap cycles per hour, the EVOLUTION SoniXs MS-6-H is ideal for large operations with high-volume production. Wear-free drives combined with the SoniXs sealing unit ensure maximum machine availability.
Easy integration with open interfaces and Mosca conveyor technology
Open interfaces are standard on Mosca strapping machines starting with machine class 3. This means they can be integrated into fully automated production lines and operated via a central control station. Operators can also select pre-programmed strapping configurations. Mosca will be demonstrating at LogiMAT how the machines from the EVOLUTION SoniXs MS-6 series work as part of a line thanks to Mosca's own conveyor technology. A roller conveyor is used to transport packages in and out of the EVOLUTION SoniXs MS-6. The EVOLUTION SoniXs MS-6-H and EVOLUTION SoniXs MS-6 KR-ZV models on display are connected via plastic chain conveyors. Along with the conveyor technologies specially developed by Mosca, the manufacturer's machines can be integrated into lines in combination with other standard conveyor techniques.