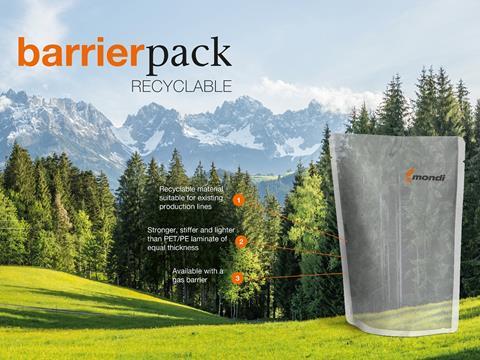 Mondi, the global packaging and paper group, will highlight BarrierPack Recyclable, its fully recyclable plastic laminate for pre-made pouches and FFS roll stock, along with other innovative products targeting the ice cream, pet food, and food and beverages categories at the upcoming FachPack trade fair in Germany.
At the show –– to be held 25-27 September in the Exhibition Centre Nuremberg –– Mondi will be at Booth 7-254 in Hall 7 to display a variety of products that enhance consumer convenience.
Mondi will partner with SN Maschinenbau GmbH –– based in Wipperfuerth, Germany –– to demonstrate the ease of processing BarrierPack Recyclable products. At booth 3A-242 in Hall 3A, SN German Pouch-Pack Technology will run the material on the FM 060 model –– an intermittent-working, horizontal, and rotary form/fill/seal (FFS) machine which can be customized for particular customer needs based on three basic machine variants (basic, premium and wet).
"We've been running samples of this Mondi laminate material, and are excited about its prospects to fill an important sustainability void in the market," explained Oliver Betzer, SN's global sales director. "At the show, we will produce filled and sealed pouches from rollstock to demonstrate the safety and the simplicity of the packaging process using Mondi's BarrierPack Recyclable film combined with advanced SN machine technology."
This collaboration between Mondi and SN underscores how they are taking a leadership position in developing more sustainable solutions that work in the production environment, contends Mondi. "The live demonstration at FachPack shows that Mondi and its partners have been doing, while competitors have been talking," said Carl Stonley, Technical Account Manager at Mondi Consumer Goods Packaging, "Seeing is believing at trade shows. It's one thing to say trials are likely to succeed, and another altogether to show them succeeding in real time."
Offering convenience and sustainability
Earlier this year, Mondi added a barrier layer to BarrierPack Recyclable's multilayer construction to provide a gas barrier that greatly extends the laminate's breadth of potential applications. In addition to being fully recyclable and already providing a moisture barrier, the material offers exceptional mechanical properties and is suitable for a range of packaging style formats.
"Constructed using two layers of polyethylene film," explains Stonley, "BarrierPack Recyclable is a highly functional, flexible, packaging material that's easy to open and reclose for added consumer convenience."
The material is stiffer, stronger and lighter than a conventional PET/PE laminate of the same thickness and it can be formed directly on form/fill/seal machines, as well as used for pre-made packaging. This past spring, the material was honoured as the "Best Technology Innovation in Plastics Recycling" at the 2018 Plastics Recycling Europe Awards in Amsterdam and just recently won the German Packaging Award in the category Sustainability.
"Our new laminate, BarrierPack Recyclable, is a leap forward for sustainable packaging," said Stonley, "and we're pleased to see others in the industry recognise that."
An expanding packaging portfolio
While BarrierPack Recyclable may have pride of place on Mondi's FachPack stand, it will hardly be the only noteworthy product on display, company officials note.
* Ice cream –– Mondi offers a large portfolio of complementary products for various ice cream and confectionary products, including convenient "easy-to-open solutions" that help to generate impulse purchases. As one of the capacity leaders in this sector, customers can consider Mondi as "one-stop shop" when it comes to ice cream packaging.
* Pet food –– Mondi has long served the pet-food sector with a broad range of solutions, and has a number of well-established customer relationships. Leveraging its "out of the box" thinking, it regularly partners with clients to develop innovative packaging developments for this market, which has generated new products such as premade plastic bags.
* Food and beverages –– Mondi continues to develop new packaging options for this sector that boost consumer convenience and contribute to more sustainable solutions. When it comes to coffee, for example, it offers aluminium-free packages, along with improved portion packaging. In the food arena, Mondi's spouted pouches and SteamFast microwave cooking pouches fit perfectly into the busy lifestyles of people on the go.