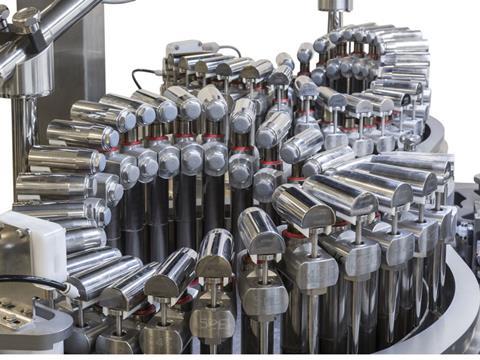 The Italian Company, specialised in the design and marketing of solutions for the pharmaceutical process and end-of-line machines, will take part at Düsseldorf's exhibition following an original approach: in fact, through an innovative application, visitors will have the possibility to make a virtual tour of the "Pharma Zone": the new area of the Bolognese headquarters dedicated to tests and trials.
MG2, who has always been particularly sensitive to process and technologies' evolution, has chosen an innovative approach for interpack 2017 by preferring, in spite of a simple showcase of machines (which will be on show anyway), the setup of a more captivating A/V platform.
The main protagonist of this experience will be the MG2 Pharma Zone: an area which was inaugurated in autumn 2016 as an essential stage of the Company's growth and expansion process. In fact, thanks to the Pharma Zone, MG2 is able to considerably increase the range of services offered to its customers by supporting them from the design phase of the productive process up to the testing phases right before the product is marketed. The new area allows to carry out dosage trials by using active products in real productive conditions, before the installation of the machine – thus saving costs and time.
But there is even more than that: thanks to the Pharma Zone, MG2 can further support the customer with a service starting from the scale-up of a new product up to the execution of small batches for R&D, including Pre-Clinical feasibility batches. The multidisciplinary team of MG2, made up of experts in mechanics, automation and pharmaceutical technologies, takes care to optimize the dosing process by also developing custom made solutions.
Pharma Zone: how it is made and what it offers
The Pharma Zone is a real pharmaceutical area hosting three "cleanrooms" and a laboratory, built in compliance with the severe constructive standards adopted by the pharmaceutical Companies themselves.
Through differentiated pressure gradient systems, constant air recirculation (duly treated by absolute filters) and accurate temperature and humidity controls, it is possible to handle any product, including APIs, in the most appropriate conditions by respecting the safety of both operators and external environments.
Each room is autonomous and independent, in order to guarantee the needed privacy, but also to avoid "cross-contamination" episodes.
Reproducing this real situation inside an exhibition booth would be inconceivable, but the experience offered by MG2 at Interpack will allow the visitors to virtually immerse themselves in the Pharma Zone and appreciate its high technological content.
In addition to the virtual reality installation, the Bolognese Company will show some of its most advanced solutions dedicated to pharmaceutical process and packaging, with a line-up of models covering both Company's divisions.
Machines on show
PLANETA 200
PLANETA 200 is the latest evolution of MG2's exclusive range of continuous motion capsule fillers. This machine can reach a production speed up to 200.000 capsules per hour, but its main "plus" is its great flexibility. In fact, PLANETA 200 is a highly configurable platform, suitable to meet different requirements for the dosage of solid forms into hard shell capsules.
The modular design of the machine allows to fit different dosing units at the same time by enabling to fill the same capsule with several products but also to change them over time.
PLANETA 200 was also designed according to scalability principles: it can be purchased with a configuration suitable for medium speeds, then it can later be upgraded for the maximum speed of 200.000 capsules/h, reaching different performances depending on the number and kind of dosing units installed. The weight control system as well can be upgraded through different steps after the machine installation, starting from a simple statistical control of capsule gross weight, up to the most advanced MultiNETT system, which allows to check in process the net weight of each capsule and each dosed product, in case of dosing combinations into the same capsule.
MG Compact
MG Compact is a continuous motion capsule filler for small and medium productions, suitable to dose pharmaceutical powders or pellets. Its modular conception allows at any time the interchangeability of its dosing units, as well as the production speed scalability from 6.000 up to 48.000 capsules per hour, by simply changing the number of elements installed.
Thanks to these features, MG Compact can be also used in laboratories since the R&D phases, which could then transfer the results obtained directly to the production line. The machine is equipped with standard devices to select faulty capsules and reject them before they reach the bin of filled capsules. As a further guarantee of production quality, MG Compact can be fitted with an MG2 statistical weight control system. This machine features ease of use and maintenance, also thanks to its management through a PC with color touchscreen and the relevant software, developed by MG2 in accordance with GAMP guidelines.
MG Compact is a very reliable machine, which has been part of MG2's portfolio since the end of the Eighties; almost 200 units were manufactured.
In order to reach this goal, during Interpack, MG2's old and new customers will have the possibility to receive a special offer to purchase MG Compact under particularly advantageous conditions.
ACE BT/300
ACE is a line of Track & Trace systems dedicated to pharmaceutical products' end-of-line machines.
The system is used to print a unique identifying 2D-Data Matrix code on each unit and simultaneously to read, verify and constantly monitor the code printing quality. After each print job is inspected, the product is fed towards the conveyor or, in case of faulty printing, it is discharged from the packaging line. ACE features a positive unit control system, for an easy and safe handling management, even at high speed.
The main advantages of MG2's solutions for traceability are the small footprint, for the integration into any existing or new packaging line, as well as the great modularity, which allows the installation of different vision systems, at customer's choice by configuring them in accordance with different marking and verification requirements.
The ACE series can handle a wide range of shapes and sizes. In fact, MG2's Track & Trace systems are available in three versions: for cartons (ACE CT/400), bundles (ACE BN/30) and bottles (ACE BT/300). The latest will be on show.
MG2 will be at interpack, Hall 16 – Stand 16A37
For more information, visit www.mg2.it