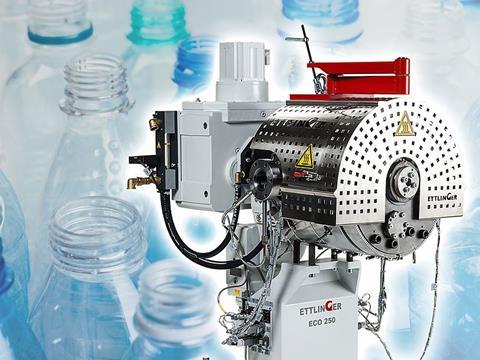 Ettlinger, a Maag Group company, will take advantage of Fakuma 2018 (Booth A6-6202) to show high performance solutions in the field of melt filtration involving different levels of contamination.
The exhibit will focus particularly on Ettlinger's ECO filter systems, which were originally developed for compounding and filtering gels and agglomerates, among other things, but are meanwhile very popular in PET applications for removing aluminum, paper, silicone or PVC from bottle regrind. 100% PET bottle flake is increasingly preferred to virgin material – creating a need for ultra-fine filtration if the end products are transparent.
To meet this demand, ECO melt filters are now available with a 60µm screen size. Together with the ERF filter series – the version for higher contaminant levels – this product family enhances the Maag Group's broad portfolio, which also includes pumps, strand and underwater pelletizing systems and pulverizers.
The melt filters in Ettlinger's ECO series are mainly designed for very easy-flowing materials such as PET or PA containing up to 1.5% contaminants but are also suitable for polyolefins and polystyrenes. Depending on the size, they achieve a maximum throughput of 1000 kg/h or 3000 kg/h. Their typical applications include the manufacture of PET packaging tape, films and sheets as well as fiber production and the rapidly expanding PET bottle recycling sector. The new, extra-fine 60 µm screen size, which will be released to coincide with Fakuma, is even better adapted to the exceptionally high quality requirements of bottle-to-bottle recycling – as the new industry benchmark for laser screening. It is also a financially attractive option when it comes to filtering the small fines that are created in significant quantities as the second fraction in addition to the actual flake when PET bottles are recycled. ECO melt filters are highly efficient and can be directly integrated into PET thermoforming lines, where they contribute to a decisive improvement in availability and cost effectiveness.
This combination of ultra-pure filtrate and high efficiency is the outcome of the special principle on which all Ettlinger filters are based. The central component is a continuously rotating, cylindrical filter screen with millions of conical holes which is driven by a servo motor. When melt flows through these holes from the outside to the inside, any contaminants retained on the filter surface are continuously removed by a single, easily replaceable scraper. Gels or agglomerates are reliably separated from virgin material in this way, as are the black specks which can form during the extrusion process. Through their continuous operation, the ECO systems simultaneously prevent such specks from occurring in the filter itself, because the screen change intervals are very long and the resulting lack of exposure to oxygen means there is no risk of the melt oxidizing. Thanks to the special purge discharge method, the ECO melt filter has the lowest melt losses in the industry. This leads to low operating costs and hence a rapid return on investment.
The melt filters in the Ettlinger ERF family differ from the ECO series in that – although designed with the same working principle – they are specially adapted for polyolefins and polystyrenes as well as styrene copolymers, TPE and TPU containing up to 18% contaminants. They are typically used to treat post-consumer plastic waste, convert recycled automotive plastics or recycle refrigerator and electronic waste. They can be supplied in three different sizes with a maximum throughput of 6000 kg/h. The ERF350, with a throughput of up to 3800 kg/h, was unveiled only last year as the first model in a new, performance enhanced generation. Several proven field applications will highlight Ettlinger's universality and efficiency at the upcoming Fakuma 2018.