Announcing the finalists of the Sustainability Awards 2018! The seventeen independent judges for the leading competition for innovation in sustainable packaging have graded all the submissions over the summer – and this week Packaging Europe is revealing the top four entries in each category. The six category winners and overall Sustainability Awards 2018 winner will be unveiled at Scanpack on 23 October.
Here (in alphabetical order) are the four finalists in the 'Machinery' category:
Finalist A:
Aseptic Combi Predis™ - submitted by Sidel
Overview
The Sidel Aseptic Combi Predis merges dry preform sterilisation with aseptic blowing, filling and sealing functions within a single production enclosure. In doing that, it respects the fundamental concept which underpins state-of-the-art aseptic packaging rules: producing a commercially sterile product, filled in a sterile zone, in a previously sterilised package. It differs from traditional aseptic technology because the package sterilisation takes place at the preform rather than at the bottle phase. The Sidel Aseptic blow fill seal solution is the world's first aseptic PET filling equipment with dry preform sterilisation approved by the FDA in June 2017.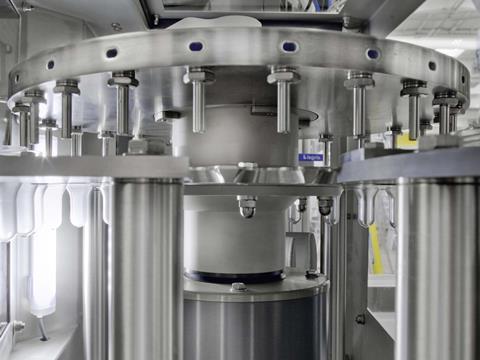 The Process Authority for the Sidel aseptic filler was US-based Dover Brook Associates (DBA). DBA applied their 30 years of professional experience in sterile processes to validate the scheduled processes of the Aseptic Combi Predis. Using an approach of specific tests and acceptance criteria, DBA was able to prove that the scheduled processes were in compliance with the predicate rules and expectations of the FDA so that the equipment could produce a commercially sterile low acid product. DBA's testing demonstrated that the sterile zone during the blowing process was the critical component, not the blow-moulding zone itself, which was due to the Sidel patented dry-preform sterilisation technology. This approval from June 2017 confirms that the Aseptic Combi Predis design is compliant with the FDA's current Good Manufacturing Practice (cGMP) requirements.
Impact
Companies throughout the world have recognised the benefits the Sidel Aseptic Combi Predis offers: beyond safety, simplicity, and cost-effectiveness, it is the significant environmental advantages that the solution brings to sensitive beverage producers.
The Aseptic Combi Predis is an important step forward in terms of sustainable production because the dry preform sterilisation technology does not require any water and uses only minimal amounts of chemicals in the production process. The blower oven activates the sterilising effect of the hydrogen peroxide vapour, injected into the preforms before the oven, thus eliminating the need for additional heating of the preforms, saving further on resources. Moreover, as the bottles are continuously transferred by the neck and are not under any thermal stress traditionally required by the wet bottle decontamination, this offers unlimited lightweighting potential, reducing the PET raw material consumption. In sum then, using no water and almost no chemicals, the Sidel Aseptic Combi Predis globally contributed to save seven billion litres of water and 57,000 tons of PET, while producing 46 billion bottles.
Finalist B:
LiquidForming Plastic Bottles - submitted by Amcor Rigid Plastics and The Liquiform Group
Overview
A disruptive technology is revolutionising the way packaging is being formed (and filled) for Amcor customers.
Known as LiquiForm®, this breakthrough technology uses consumable liquid instead of compressed air to simultaneously form and fill the container. In essence, the liquid product forms its own rigid plastic container through this innovative process.
This liquid-forming technology combines the bottle manufacturing and filling process into one step resulting in the removal of blow-moulding equipment and high-pressure air systems. Costs associated with equipment and space as well as handling, transportation, and storage of empty bottles are eliminated with LiquiForm®.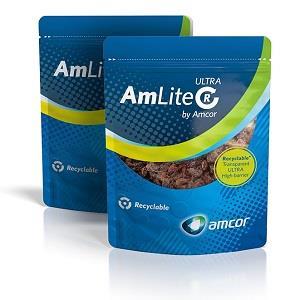 In addition to the streamlined operations, the use of incompressible liquids improves the container quality with a more consistent distribution of materials. The result is a much sharper resolution (i.e., embossing, debossing, Braille) that cannot be achieved with air.
LiquiForm® technology was brought to market by The LiquiForm Group, a wholly-owned Amcor company. Introduced in 2014, The LiquiForm Group has been working with converters and equipment manufacturers to license the cutting-edge technology.
This first commercial container was manufactured on a proprietary Amcor-built machine powered by the LiquiForm® process. The bottle was introduced to the market in December 2017. Nature's Promise hand soap launched its 12-ounce PET bottle with 50% post-consumer recycled content. This bottle replaced an existing container but added greater branding elements for consumer appeal. The updated design highlights the Nature's Promise brand's key symbol – the leaf – with a delicate pattern along the shoulder of the container.
Impact
The game-changing LiquiForm technology has the potential to improve packaging consistency and lower the carbon footprint associated with forming and filling. It opens new pathways toward lighter, more sustainable packaging, has the potential to reconfigure supply chains and move packaging in the form of filled products closer to the market.
Substantial new value is created through the innovative LiquiForm process, including:
Raw material reduction. In the case of the 12-ounce Nature's Promise PET bottle, the weight went from 29 grams to 19.5 grams. This represents a 33 percent reduction in bottle weight.
Energy consumption. Comparison of high-pressure air associated with traditionally blow moulded bottles verses bottles formed with injected, consumable liquids.
Inbound transportation costs. Empty bottle shipments verses preforms for liquid forming.
Outbound transportation costs. Examine opportunity for optimisation of regional/local operations shipments compared to shipments from centralised operations.
Greater responsiveness. Regional/local filling operations can provide greater convenience and responsiveness when compared to large, centralised operations and warehouse distribution.
Lower carbon emissions. Associated with transportation (inbound and outbound) as well as operational efficiencies of forming a bottle with liquids versus high-pressure air.
Less space. One forming-filling line versus separate blowing and filling lines.
Expanding Operations. Low energy, small space operations allow for greater distribution of filling locations globally, particularly in developing economies.
Finalist C:
Made2Fit - submitted by DS Smith Packaging Systems
Overview
DS Smith's revolutionary Made2fit technology improves operational efficiency, eliminates void fill & lowers transportation costs.
This innovation has been developed to specifically tackle the e-commerce challenge of void space, as shipping air is a waste of resources. Creating the right-sized pack lowers costs for e-tailers by reducing both operational and shipping costs: saving storage space, cutting labour costs and order administration, and significantly cutting assembly and packing times. It also significantly reduces product movement, helping to reduce damage.
Whether you are a high-volume retailer fulfilling thousands of orders a day, or a young and growing company there is a Made2fit solution that is, well made to fit just for you. The manual Made2fit solution is perfect for smaller companies as it is designed for lower volume orders, creating 39 possible box size combinations from just three blank sizes of cardboard.Larger retailers will benefit most from the automated version of Made2fit for larger volume orders, with the capability to manufacture more than 10 million box size combinations, in a process that is omnichannel-ready.
Impact
Finding the balance between protecting packaging and limiting the amount of materials used is a constant source of concern for retailers. Likewise, shoppers do not want to receive broken goods or have to deal with excess packaging. The new DISCS™ technology enables us to scientifically assess customers' requirements and get this balance right.
An industry first, DISCS ™ tests whether packages can survive the bumps and scrapes of the average e-commerce supply chain. Online orders sometimes need to survive up to 50 touch points, so packaging must be durable but also sustainable. Named after the different types of testing (Drop, Impact, Shock, Crush, Shake), the patented system consists of five pieces of equipment, each replicating a part of the product journey and therefore providing real world testing.
With a network of over 600 design and technical team members in 37 countries, DS Smith is perfectly placed to offer you a 'glocal' service, enabling you to connect with a local contact, supported by a global network of knowledge and experience. Its e-commerce specialists have been trained in helping you to eliminate excess packaging material, delight customers with packages that are easier to open, create less packaging waste, reduce product damage, and ship less air.
Finalist D:
Sustainable Hybrid Battery Storage - submitted by Ardagh Group
Overview
In December 2017 Ardagh Group implemented a sustainable, hybrid battery storage system to increase resilience and energy security at its glass container plant in Irvine, Scotland.The plant needs a reliable energy supply to support its continuous manufacture of glass containers. The battery provides a secure and reliable supply of green energy, providing a back-up during peak energy consumption and delivering energy back to the grid when demand is low.The storage system is a hybrid combination of a Tesla battery and a grid-optimising platform:
The Tesla battery is designed to efficiently store energy during periods of lower demand and support demand during intermittent power failures.
The grid-optimising platform enables Ardagh Group to participate in the National Grid's Firm Frequency Response service.
The battery reduces the plant's reliance on the grid and any surplus energy is returned to the grid.The hybrid battery is a first for the UK, combining electrical energy storage with on-site equipment that quickly responds to frequency triggers and peak avoidance warnings.The system is a responsible innovation which can tap into various renewable energy sources, like solar and wind, on the same grid. It also stores green energy that would otherwise be lost. It is a key step in moving away from the plant's reliance on thermal energy and plays a vital role in reducing excess emissions and costs.
It paves the way in sustainability and energy technology for industry, supporting the transition to a low-carbon, sustainable, reliable, cost-effective and efficient power system.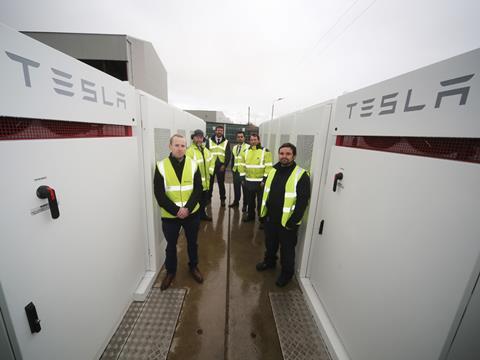 Impact
The solution provides Ardagh Group's Irvine plant with a secure, resilient, reliable supply of green energy, transforming how energy usage is managed at the plant. It will positively impact energy sustainability locally and nationally:
Locally, the battery will provide fast back-up for the systems on the Irvine site in case of local grid failure, avoiding the emissions from the diesel generators that previously provided this function.
Nationally, the battery allows for more low carbon renewable generation to connect and avoids emissions from high carbon thermal stations to provide grid stability.
The battery reduces the plant's reliance on the grid and any surplus energy is returned to the grid, thereby reducing the CO₂ impact of energy demand in the local community by an estimated 400 tonnes annually. This saving is due to the battery keeping the electricity system stable at 50Hz. Before the battery was installed, the National Grid would pay for thermal power stations to provide this stability by operating in an inefficient idling mode.
Want to be the first to know the winners of the Sustainability Awards 2018? You're welcome to join us at the Awards ceremony and the Sustainable Packaging Summit at Scanpack in Gothenburg on 23 October 2018. Contact Packaging Europe by email or Twitter for details.