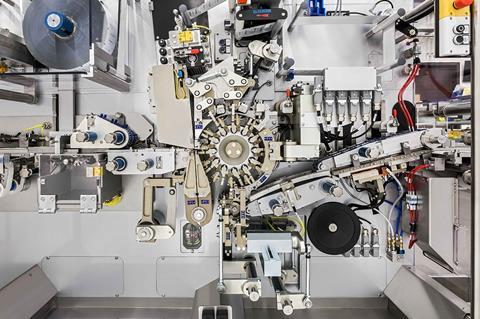 Classical fold wrap encounters premium packaging look
The RCB-HS is a continuously operating machine that produces the fold wrap in a wrapping head and circumferentially heat-seals or cold-seals the packaging material. The variant with cold seal-capable film has the advantages of gentle material handling and excellent usability in machines, while the heat-seal variant uses less expensive packaging material. The heat bars always seal film against film, ensuring extremely tight packaging and preventing thermal damage to the products. This eliminates the need to use hot-setting glue when closing the packaging. In the next step, folding elements produce the premium fold wrap. For an optimal packaging look, small heat bars carefully affix the sealed film areas to the underside of the packaging in the discharge area. "Our conscious decision to dispense with glue to seal the packaging reduces machine contamination, minimises operating costs and simplifies machine operation," said Cord. An integrated opening aid makes it easy to open the packaging. Customers also have the option of applying a tear thread to sections of the packaging or integrating a tear aid into the packaging material. The processing of OPP film as the only packaging material leads to cost and resource reduction in comparison to conventional aluminium in the inner wrap and, typically, paper as the second packaging material. Modern printing technology for films also enables attention-grabbing visual and haptic options to be used for packaging design.
Wide range of formats
"As with all Loesch machines, the RCB-HS features quick, simple format changeover, a wide format range, excellent hygiene properties, high efficiency and performance, outstanding accessibility, and user-friendly operation," declared Cord. The machine was optimised for quick format changeovers with a minimum of tools: set-up time around 60 minutes. Most belt changeovers and cleaning work can also be carried out without tools. Thanks to its design, the RCB-HS features long cleaning and maintenance intervals. In combination with its high quality of construction, this results in excellent machine availability that can be increased with accessory modules such as an auto-splice device.
F-Series for top flow pack performance
As an alternative to the sealed fold wrap, Loesch offers the FCB horizontal flow wrapping machine for applications with low packaging material costs. The solution from the F-Series high performance platform is suitable for packaging chocolate, biscuits and chewing gum in flow packs. It is available with a large number of applications. "Alongside traditional fold wrap, the packaging machines in our F-Series can be optimally integrated into systems with a storage system, feeder and secondary and end-of-line packaging from LoeschPack," said Cord by way of explaining his company's orientation as a provider of complete packaging systems. "The flow wrapping system solutions in the F-Series for a wide range of applications have been successfully placed in the global market for over three years. They represent high performance, overall plant efficiency and high format flexibility at low packaging material costs," he added. With its next development step for the platform, LoeschPack will expand the range of products in the F-Series. Cord explained that LoeschPack would like to deliver a needs-compatible system to each customer that serves the specific product mix. "Long-dwell" is one of the firm's latest developments. "The function enables longer seal times for cross- sealing, improving product protection with higher packaging tightness," said Cord.