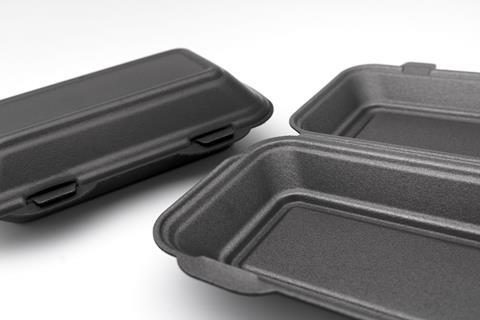 Fresh food packaging manufacturer, LINPAC (Klöckner Pentaplast) is to unveil a premium range of EPS solutions for fast food retailers and caterers as the company looks to challenge the myths and misconceptions surrounding the material.
The company is set to launch five of its most popular EPS box solutions in black to deliver a distinctive, more exclusive, look to packaging for the foodservice sector.
Mark Durston, Sales Director for Foodservice and Convenience, said: "The foodservice sector is currently undergoing quite a transformation. The huge trend for upmarket street food has put dining on-the-go in the same arena as dining out; street food caterers can serve up anything from tantalising Vietnamese noodles to flavoursome Mexican tortillas and consumers are enjoying this new dining experience.
"As a leading food packaging manufacturer at the forefront of innovation, LINPAC (Klöckner Pentaplast) recognised the growing potential of this market. We have rejuvenated some of our EPS solutions to deliver a premium offering that ticks all the boxes in terms of functionality, sustainability and performance for foodservice packaging, whilst at the same time providing a solution that reflects the market and dining experience it is intended for."
Durston added: "For our traditional fast food outlets and caterers, the new black EPS solutions offer a novel, stand-out pack that will enable them to tier their food offering and present food to a high standard."
The new black EPS packs, which are manufactured in the UK, will be available from stock in a range of shapes and sizes to suit a wide variety of meal options.
EPS has been discredited in the press recently, encouraging some cities to consider banning the material without understanding the true value of this type of packaging. This is predominantly due to misconceptions.
Durston added: "In reality, EPS has extremely strong sustainability credentials and excels in terms of functionality and performance, particularly for hot food packaging. The root of the issues raised in the media stem from littering, rather than EPS, as some consumers do not dispose of their rubbish correctly. Moving from EPS to another form of packaging will not reduce litter.
"Consumer education is fundamental to combat the challenge. The packaging industry as a whole must do more to inform consumers about the facts, rather than allow myths to become accepted."
10 facts about EPS
1. EPS is 100% recyclable
2. EPS represents efficient use of natural resources - it contains 93 per cent air making it one of the lightest packaging materials on the market, with a very low carbon footprint and reduced fuel consumption during transportation
3. EPS is a great insulator, keeping food cold or warm depending on use
4. As it does not biodegrade EPS does not contaminate the air or water with gases or hydro soluble substances
5. The manufacturing process consumes less energy and water than other materials and does not generate waste
6. EPS has a high calorific value. 1kg of EPS is equivalent to 1.3 litres of liquid fuel, making it an ideal material for energy recovery
7. EPS makes up only a tiny part of Municipal Solid Waste (0.1%)
8. Fungi and bacteria cannot easily grow on EPS, helping to ensure food safety
9. EPS packaging protects products, enhancing shelf-life and helping to reduce food waste
10. EPS does not damage the ozone layer since it does not use CFCs or HCFCs in the manufacturing process.
More info: