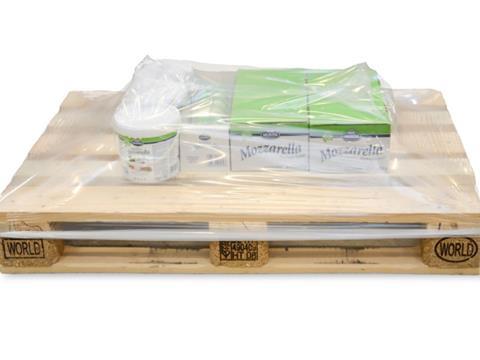 Lachenmeier, a leading producer of end-of-line packaging machinery, is demonstrating at interpack how the company's expertise within the stretch hooding technology has yielded cash advantages for industries using this packaging technology as part of their production.
Stretch hood packing means cost-effective, flexible and reliable handling of bagged loads, food and beverage products, empty containers, logistic pallets, construction materials, etc.
Combining film based on the very latest in down gauging technology to provide the necessary strength, the right holding force, and good puncture resistance, with the Lachenmeier stretch hood wrapping technology, offers customers considerable savings due to possibilities of down gauging the film thickness. A down gauging in film thickness made possible thanks to Lachenmeier's film unwinding patent EP 1184 281/US7,040,076 B2 which eliminates thin and fragile film on the corners of the load, making the film on the corners approximately 30% thicker than normal. Besides going down in film thickness and thus saving money this system also reduces the risk of tearing the film during application and also secures the wrapping of products with sharp corners.
When down gauging you achieve greater length of film per reel which also ensures improvements in efficiency. Not only are fewer deliveries of film necessary, you will also spend less manpower and resources for ordering and handling the film, in addition to reducing the amount of production floor space needed for storage, and fewer stoppages for reel changes, maximising packaging line performance and reducing downtime.
Besides focusing on creating cost savings for customers using thin film, Lachenmeier will also show the variety of wrapping solutions possible with the stretch hooding technology. For years stretch hooding has been seen as wrapping a closed hood over a perfectly cubed load, nothing more, and nothing less. The fact that we can stretch hood single layer loads, that we can work with printed films as well as perforated films, and that we can wrap very irregular loads from the logistic sectors, loads with varying product shapes, many corners, possible sharp edges or soft corners, is still new to various industry segments.
Innovative HMI touch panel with the new SaveX systemFurthermore, being ready for industry 4.0, Lachenmeier is launching an innovative HMI touch panel with the new Lachenmeier SaveX system, providing video functionality, QR code assistance, easy fault diagnosing, OEE overview, web access as well as a corresponding APP.
Live demosDuring the course of interpack, we will run live demos of our latest technologies in stretch hooding wrapping pallets from the logistic industry and various pallets from the food industry showing the variety of wrapping options with the Lachenmeier range of pallet stretch hood wrappers.
Lachenmeier at interpack: Booth 12C48
More info: