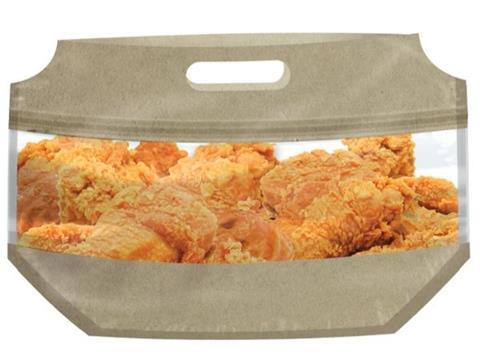 Korozo provide packaging solution that has more visual impact than a simple barrier or protective film, practical paper-look bags, perfect for many applications from bakery to takeaway foods.
The bags are not just attractive, they provide high protection with excellent barrier properties as they are manufactured from a range of special films which can be printed to practically any design with varnish on top.
One popular version creates a clear film window so consumers can see the product inside – excellent for quick and easy on-shelf selection.
Portable and ProtectiveA convenient handle makes for excellent portability, whilst a secure resealable zippered closure provides protection from the elements in transit – and helps hot food to stay that way.
The angle is Korozo's commitment to providing customers with exactly what they want. The bag can be re-used by shoppers.
No longer will customers have to juggle a hot package and risk burnt fingers, thanks to our innovative built-in carry handle.
It doesn't matter what product it's for, our paper-look bags can be tailored to the right size and shape for your requirements. From a practical point of view they take up very little room in storage so you can buy in bulk to get the best price.
More info: