Among a variety of technologies, leading manufacturer of filling and packaging systems KHS is introducing two new offerings for the beverage market at drinktec today.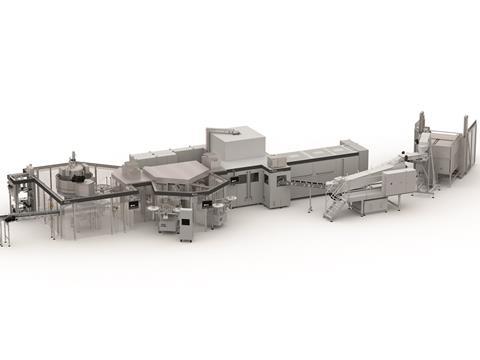 With its InnoPET TriBlock Aqua M the KHS Group is presenting a compact, powerful block system for single-serve formats. The high-performance unit is specifically geared towards the growth segment of water in single portions – perfect for any handbag. It processes container sizes of between 250 and 800 ml at a rate of up to 50,000 bottles per hour. Thanks to the many innovations and compact size of the machine KHS customers can not only save on resources but also improve the quality of their products.
"With this system we're offering more than just the compact version of the single machines. With the KHS InnoPET TriBlock Aqua M our customers get real added value," says Arne Andersen, global product account manager for the TriBlock at KHS. The new system blocks the further developed Blomax Series IV stretch blow molding module, a labelling module and the Innofill PET NV filler. Together they form a unit which is perfectly suited to the application on hand, manufacturing bottles from preforms and then labelling, filling and capping them. Further advantages of the machine according to Andersen are its exceptionally hygienic design and optimised housing. The machine is centrally controlled by the improved HMI (human machine interface) on a clear 21.5-inch monitor with full HD resolution for detailed visualisation of the process graphics. Another aspect which is especially important for practical operation is the consistent drive and operator concept with which KHS boosts effectivity and the level of convenience.
The individual modules on the TriBlock give optimum performance at every stage in the process. Compared to the previous model, the further developed Blomax Series IV has blow stations on which small bottles with a maximum diameter of 75 millimeters can be blown. The low level of noise pollution also deserves a mention here, this ensured by the aforementioned InnoPET Silent TipTainer; with its closed system and lower PET preform drop height the latter are fed especially gently and thus less noisily to the sorting unit.
The labelling module is distinguished by its robust design and thus a high degree of reliability and availability. A special vacuum system permits materials of a very low thickness to be used for the bottles and thus helps to cut costs. In addition, the top-drive technology, which consistently feeds the bottles through the TriBlock by their neck rings, also has many benefits: it is gentle on the PET bottles, minimises downtimes and is advantageous when making lightweight containers as these are no longer exposed to any compression force in the labeller.
A new generation of valves in the filler shortens the filling time so that fewer valves can be used for the same total filling capacity. By focusing on smaller bottles and through the subsequent reduction in pitch, the diameters of both the filling wheel and ring bowl have been decreased. This makes both the filler and the TriBlock as a whole more compact. Users profit from a reduced maintenance effort and cuts in maintenance costs.
PET barrier coating for small bottlers and converters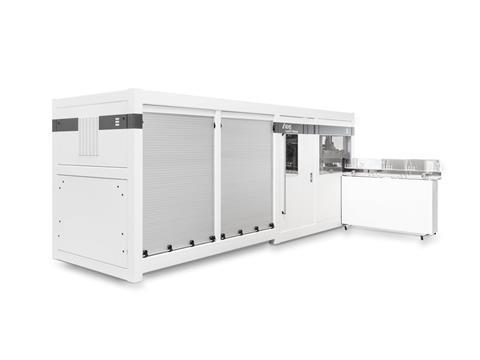 The KHS Group is also expanding its portfolio with the release of the InnoPET Plasmax 2Q, optionally upgradeable to the 4Q. This single machine applies a protective coating of silicon oxide to the insides of PET bottles. With an output of up to 1,800 (2Q) or 3,600 (4Q) containers per hour the new machinery is specifically geared towards converters and smaller bottling plants. These businesses can now benefit from tried-and-tested KHS FreshSafe PET® coating technology which to date was the preserve of larger Plasmax machines only.
In the KHS FreshSafe PET® coating process the inside of the PET bottle is covered with a wafer-thin layer of pure glass. This means that bottles remain fully recyclable and protect sensitive products such as juice, wine, sauce and liquid food from oxidation and carbonated beverages from carbon dioxide loss. This considerably lengthens shelf lives.
"With our new, compact InnoPET Plasmax machines we have two particular target markets in focus: firstly, customers who wish to develop new markets through pilot production, and secondly, clients whose filling quantities were too low to date to enable them to profit from this established technology," says Philipp Langhammer, product manager at KHS Corpoplast GmbH. These customers chiefly include converters who manufacture PET bottles in small, differing batches on contract and for whom the investment in a high-performance machine would not yet pay off.
The new InnoPET Plasmax 2Q is currently designed to cope with PET bottles holding between 80 millilitres and 1.5 litres and can process container necks of up to 38 millimetres in diameter. It is also planned to expand the coating options beyond the current dimensions to include other container variants. The machine has a capacity of 1,800 500-milliliter bottles per hour. As an option it can be upgraded to an InnoPET Plasmax 4Q with an output of 3,600 0.5-litre containers an hour.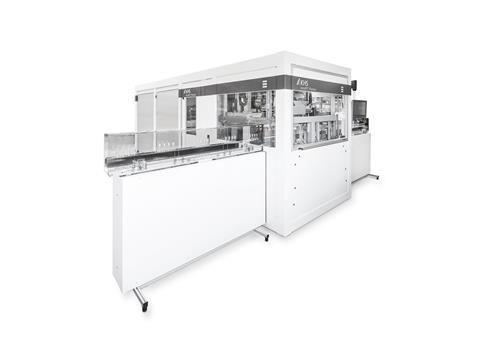 The compact InnoPET Plasmax 2Q and 4Q are extremely simple to ship and can be quickly commissioned on site. "The basic idea was to enable the processes on our high-performance machines to be transferred to the new Plasmax 2Q and 4Q. Many components from these systems have thus been used here," states Langhammer. Equipped with a ClearLine HMI (human machine interface) the machine is intuitive in its operation. With RFID access control employees can simply log on to the InnoPET Plasmax 2Q and 4Q and are shown the corresponding data on the menu screen.
"We support our customers right from the start as they grow. Our new InnoPET Plasmax machines act as an introduction to high-quality interior coating," Langhammer explains. Bottlers who invest in the new system benefit from worldwide KHS service which with its trained engineers, range of spare parts and short reaction times ensures high line availability. Within the scope of its optional maintenance contracts KHS also provides wear parts and coating media and performs maintenance work in coordination with the customer directly on site at the plant.