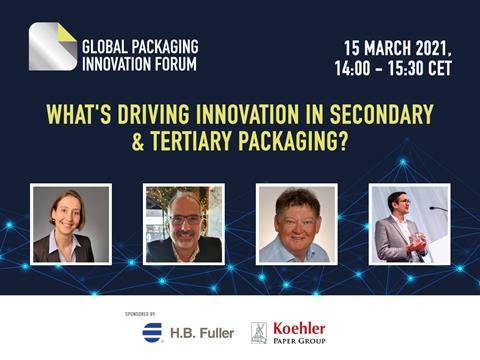 Take part in the very first event of our Global Packaging Innovation Forum on 15th March 2021 from 14:00-15:30 CET!
The Forum is a new digital space in which the packaging and FMCG value chain will be able to access and share information and ideas. In the opening discussion of the Forum, a panel of distinguished experts will be looking into the factors that are driving innovation in secondary and tertiary packaging.
What are the trends and pain points creating demand for innovation in secondary and tertiary packaging and the supply chain? How are consumer behaviour, retail shifts, the pressure for efficiency, and the goals of sustainability driving R&D?
Join our expert panel to discuss the challenges and the technological choices around aggregation, cartoning, and transit packaging.
Speakers:
Elizabeth Staab, Global Strategic Marketing Manager at HB Fuller
Alan Potts, Design & Innovations Director at DS Smith
Bernhard Vaihinger, product manager at Syntegon
Moderator: Tim Sykes of Packaging Europe
Click here to sign up for free and get more information about the event.
Click here to put the event in your calendar.