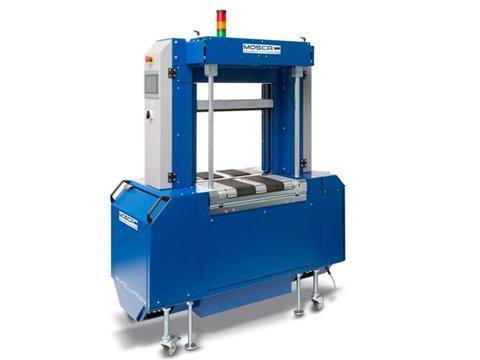 "Optimize your Production", that's the slogan of the 2018 automatica. The trade fair shows examples of how to improve production processes with the help of automated processes.
From 19 to 22 June 2018, Mosca GmbH will be presenting strapping solutions for the end packaging of a variety of product groups at booth 235 in hall B5.
Mosca's solutions can not only be integrated into fully automated production lines, they also offer the option of triggering automated processes themselves. With new technologies like an RFID system for the automatic reordering of strapping material, which will also be showcased at the automatica, and open data interfaces for all higher-class strapping machines, Mosca is actively driving the development of Industry 4.0 solutions in the strapping industry. In addition, the packaging expert offers clients comprehensive services as an all-around carefree package.
"Complete systems that can be easily integrated into our clients' production environment are what makes our portfolio stand out. Thanks to its open data interfaces, clients can add a fully automated strapping machine to their production sites and use it as centerpiece for Industry 4.0 solutions. The right strapping material, comprehensive customer services, and our own conveyor technology mechanisms round out our offer," explains Mosca CEO Timo Mosca.
The slogan of the 2018 automatica: "Optimize your Production" is reflected at the Mosca exhibition stand, where the high-performance machine EVOLUTION SoniXs TR-6 Pro demonstrates the communication options between machines and the interactive control of components, which allows industrial customers to manufacture and package individualized products, and to take a major step towards lot size 1.
Machines that communicate with each other also pave the way for new solutions like an RFID system, which Mosca will also showcase at the automatica. The system, which was developed by Mosca in cooperation with PSI Automotive & Industry GmbH and Winckel, enables customers to order new strapping material automatically. RFID gates and the strapping machine itself read an RFID tag attached to the strap coil and forward the information to the customer's ERP system, which detects when the strapping material stock has dropped to a pre-defined level and automatically sends out a new order.
A complete package: strapping material and service
Mosca complements its range of Industry 4.0-compatible strapping machines and systems with strapping materials produced in-house. In the fully automated plant at the company's Muckental site, Mosca manufactures strapping material made of PP, PET, and the biodegradable plastic PLA. Customers can order quantities ranging from a single carton to a complete container load.
In addition, Mosca offers a comprehensive service portfolio. Installation, relocation, maintenance, and training packages ensure proper machine operation and help users identify opportunities for optimization and networking. Since early 2018, Mosca has been offering standardized services worldwide under the name "ONE Service," an approach that is especially beneficial to companies using Mosca machines in several different countries.
More info: