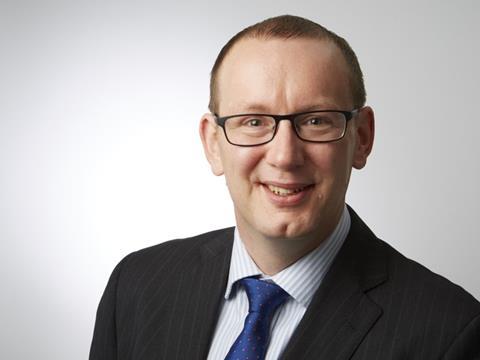 Paul Foot, a partner and patent attorney at intellectual property firm Withers & Rogers, explores innovation in the context of the proposed 'latte levy'.
With increasing numbers of food and drink outlets offering takeaway beverages in disposable packaging, it is unlikely that the issue of packaging recycling is going to go away any time soon. The UK alone uses 2.5 billion paper coffee cups every year.
The composition of drinks packaging lies at the root of the problem. Due to the nature of the product they hold – liquid beverages – drinks packaging needs to be sturdy and water resistant. In order to achieve this, packaging manufacturers have adopted a method by which a plastic laminate is co-extruded onto a paper or card sheet. The end result is a waterproof material, which consists of about five per cent plastic.
Plastic is not a biodegradable substance and the issue of recycling coffee cup packaging stems more from the separation of this plastic laminate from the cardboard layer. If these two layers can't easily be separated in the recycling process, there is a risk of contaminating the paper pulp, causing further issues down the line.
There are recycling facilities around the world that can successfully undertake this kind of process. However, due to the complex and costly plant and machinery required, they are not widely available in the UK. In fact, there are only four recycling companies globally that have this capability, meaning only six million cups are recycled per year (i.e. only 0.25%).
Stronger incentives are needed
The war on drinks packaging waste is being led by France, where the Government has announced plans to ban all disposable cups and plates by 2020. Whilst a similar approach has not yet been adopted in the UK, calls to find solutions to the coffee cup dilemma have intensified.
In 2016, the Liberal Democrats proposed the introduction of a 5p levy on all disposable coffee cups, but this call was rejected. This debate has been reignited with a report issued in December 2017 by the Environmental Audit Committee. This report suggests that, similar to the plastic bag charge (which has proved to reduce the use of plastic bags by 83%), a coffee cup charge of at least 25p could reduce the use of disposable cups by up to 30%.
If such a levy was introduced, the funds could be allocated to invest in improved recycling infrastructure and reprocessing facilities. While this would have a positive effect, it wouldn't necessarily provide a long-term solution, and it would take a long time to implement.
Stronger legal measures, such as those applied in France would have greater effect. For example, a move to ban all disposable coffee cups by a certain date would force manufacturers and coffee retailers to invest heavily in R&D activities to find new recycling or manufacturing methods or innovative new cup materials.
Some retailers have already introduced schemes to try and dissuade consumers from using disposable coffee cups. In particular, there has been a push for the adoption of reusable cups but this approach is unlikely to gain widespread appeal and current uptake is only around 1%. The convenience of being able to collect takeaway drinks as and when needed will be hard to overcome, even if discounts are available to those bringing a reusable cup. Such discounts alone are unlikely to change behaviour significantly.
Innovating the way to the future
Fresh approaches are urgently needed to tackle this recycling problem. This is likely to involve sector design specialists and others across the supply chain working together to find a holistic solution to reduce drinks packaging waste.
A number of major players in the coffee cup industry - Benders Paper Cups, Bunzl Catering Supplies, Caffe Nero, Dart Products Europe, Greggs, Huhtamaki International Paper, McDonald's UK, Nestle, Pret a Manger, Seda Group, Starbucks and Stora Enso - recently signed up to an agreement with the Alliance for Beverage Cartons and the Environment (ACE UK), with the aim of working towards a long-term solution. However, to date, examples of innovation activity appear few and far between.
Instead, there are some signs of progress from a number of smaller, innovation-led businesses. Set up in 2016 by entrepreneur Martin Myerscough, Frugalpac has developed an alternative cup design. In their design, instead of virgin paper laminated with a thin layer of plastic, the cup has a plastic liner that is lightly glued in place, so that it can be easily separated from its recycled cardboard shell at a standard paper recycling mill. Recycled board can be used in this way as no part of the board needs to be in contact with the drink itself, in which case virgin paper stock would be required for regulatory reasons. Frugalpac has protected this concept with a UK patent - GB2538429 - and is currently in talks with several major coffee retailers to supply their cups.
Another recent innovation is the 'reCUP', by Smart Planet Technologies Inc in California, USA. Unlike the coating of standard paper cups, the makers of the reCUP claim that its 'EarthCoating' formation can be easily washed out in the recycling process; allowing the paper to be recycled. They also claim that no changes need to be made to the cup manufacturing process and the cost of materials remains the same. In theory at least, this innovation has much potential and could solve many of the problems associated with standard cups.
Opportunities and threats
It is clear there is no quick-fix solution to the problem of coffee cup recycling and there are many factors to consider. However, for established cup manufacturers and recyclers, there is a danger they will lose the initiative to start-up businesses who are able to see the problems and solutions in a new light, and disrupt the industry. Therefore, they need to aggressively meet this challenge with new solutions, even if it means their existing business could suffer in the short term. Otherwise, they risk being the Nokia of the paper cup industry.
More info: