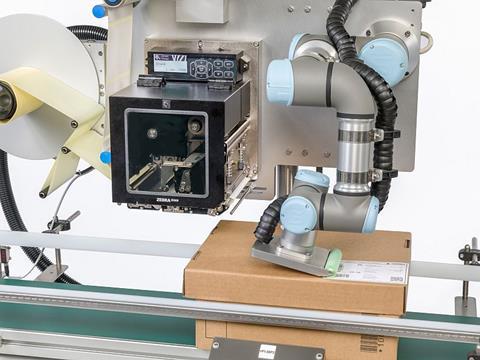 The six-axis collaborative robot UR 3 takes care of applying labels to diverse packages in a variety of positions – without so much as a pause. "Individual product labelling to support just-in-time production, quality assurance, and traceability and tracking is a growing trend in packaging and logistics, as elsewhere. And our innovative printing and labelling system not only applies the labels at high speed and with pinpoint accuracy, but also offers outstanding flexibility. The arm of the UR robot approaches the defined labelling position on the product and applies the label on the fly with pinpoint precision," explains Ulrich Fischer, head of product management at HERMA GmbH. "Especially in shipping and logistics, where packaging dimensions vary enormously, robotic solutions such as ours can greatly enhance process efficiency."
The printed label is transferred to a vacuum pad that is attached to the robot arm. As the label is being transferred from the vacuum pad, the UR robot accurately rolls it onto the product. Upon completion of the labelling process, the arm returns to its starting position. The next label can then be applied. When it was looking for a robot supplier, HERMA was much impressed by the modern safety functionality that automatically stops the robot when it encounters an obstacle, and by the ease of programming and worldwide availability. UR robots continuously monitor the force they are applying and shut down in case of a collision with another device or a person. They can therefore work right alongside employees even in confined spaces, either without or with only rudimentary safety guards.
Proven standard components
Apart from the industrial cobot, HERMA's new solution consists of supremely reliable and proven standard components belonging to its modular design system. These include unwind and rewind units and the high-speed thermal transfer printer ZEBRA ZE500-6. A print resolution of up to 300 dpi ensures outstanding image legibility.
The ground-breaking printing and labelling system originated by HERMA can be positioned in any orientation and integrated in existing production lines in a variety of ways. According to the head of HERMA's Labeling Machines division, Martin Kühl, "Robots are emerging as a major topic in the context of labelling and logistics – they can solve problems in entirely new ways. Our innovative and flexible printing and labelling solution is just the first milestone marking our debut in robotics. Others are already in the pipeline. We expect robots to contribute to major efficiency improvements at the interface where man and machine collaborate."