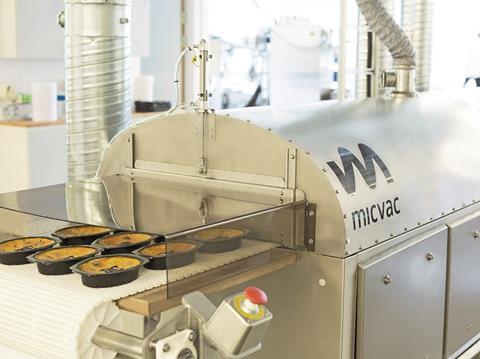 Micvac is exhibiting at at IPACKIMA2018 in Milano, Italy, and extending an open invitation to all visitors wishing to taste the quality of ready meals produced using the Micvac method.
At its stand Micvac explains and demonstrates the Micvac method, allowing visitors to taste and enjoy the quality of the fresh ready meals it produces. Experts are on hand to discuss in detail Micvac's pioneering technology, investment options and market opportunities. Having tested the method at the stand, Micvac provides potential customers with a variety of easy options for getting started at their own production site.
Visiting the pilot plant
The Micvac pilot site is situated in Gothenburg, Sweden. It provides a full-size production unit where customers can learn how the method works, or produce a meal of their own choice and put it through a test sale. Micvac also provides potential customers with the opportunity to visit existing customer production sites to experience the unit and the method in action.
Buying a portable test kit
Alternatively, customers can buy a low-cost portable Micvac test kit to use at their own production facilities. It contains all the food manufacturing equipment necessary to use the Micvac method on a small scale. As Fredrik Larsson, Technical Director at Micvac, explains, the microwave oven looks similar to a household unit, but uses continuous, rather than intermittent heating. By manually filling the trays, sealing them with the hand sealer, and cooking them in the microwave oven, customers can launch their own recipe development process. "Based on sophisticated technology,Micvac's portable test kit is nevertheless easy to use," says Karolina Eldh, Communication and Key Account Manager at Micvac. "It provides customers with a low-cost, flexible opportunity to test their own needs and requirements, and experience the results for themselves."
The portable test kit contains a microwave oven and a manual traysealer capable of sealing trays of up to 1 kg. Also a semi-automatic traysealer with a one- or two-cavity tool depending on tray size can be purchased. In addition, a pouch sealer capable of sealing different types of pouches is available for customers requiring different market options for their ready meals or components.
Taking the module-by-module approach
Another option is to take a module-by-module approach towards a full-scale production unit. An 18 kW single-module, small-scale tunnel can be chosen at the outset for small volumes, test sales or test purposes. Subsequently, as production capacity grows, extra modules, consisting of 18 kW each, can easily be added to increase the output. For larger capacities (36-108 kW) a buffer/in-feed system and a continuous production line are recommended.
Packaging solutions
True to the company's comprehensive approach, Micvac has developed more than just an innovative production unit. Packaging is an important element of the production process and is always included in the different starter options. Packaging and production are fine-tuned to enable a final output of excellent ready meals with long shelf life. The Micvac method therefore requires the specially patented Micvac trays and valve. They are needed to contain the impact of the cooking procedure as the packaging expands due to the pressure created inside. When cooling begins, a natural vacuum is created enabling prolonged shelf life active packaging at its most ingenious and effective.
Full range of trays, films and pouches included
The necessary packaging materials are included with each production option. As Micvac packaging is essential to successful production, it is always delivered as an integral part. The portfolio covers a range of single- or two-compartment trays available in different colours or transparent. This enables product differentiation and unique presentation at the POS.
For the manual and semi-automatic traysealers of the test kit, lid film with pre-applied valves is available. For industrial production, lid films and valves for automatic sealing machines are delivered separately. Pouches of different types and sizes are available to choose from. However, for thermoforming machines films and valves will also be delivered separately.
Comprehensive support
Eager to provide support at all stages, Micvac places a specialist at the customer's side throughout the entire process, offering invaluable advice from recipe to production. Furthermore, food specialists can be asked to accompany the process,adding another level of expertise. Micvac experts analyse a customer's production process, production capacity, recipes and the market. Their knowledge and experience help develop solutions that cover everything from market strategy to the actual production process, staying at the customer's side for ongoing evaluations and decisions.
More info: