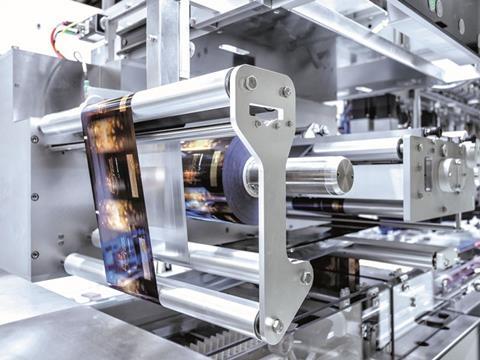 At the PackExpo trade fair, Schubert will demonstrate the flexibility of its high-performance technology by means of a picker line with an integrated Flowmodul – the new compact flow-wrapping component that efficiently packs products in flowpacks.
Additionally, the market leader in top-loading packaging machines will present the first developmental step of its future GRIPS.world digital platform and demonstrate possible applications in preventive maintenance. Trade fair topics will also include integrated primary packaging processes, such as the filling and sealing of coffee capsules, which can be seamlessly incorporated within Schubert's TLM systems.
A fully integrated flow-wrapping componentAt PackExpo, with the Flowmodul, Schubert will be presenting a flow-wrapping component which is seamlessly integrated within the TLM system. The Flowmodul allows food, confectionery or pharmaceutical products to be packaged in flowpacks in a highly flexible and space-saving manner. With the Flowmodul, image recognition for quality control, pick & place robots and packaging in flowpacks all come together in a compact and versatile system. The operation of the entire system via a single control module is sleek and simple. The innovative packaging technology achieves record-level performance in packaging a wide range of products – in terms of space requirements, conversion times and product variety. In Las Vegas, Schubert will be showing a picker line with five F4 robots, which places biscuits in the Flowmodul's product feeding system and packs them in flowpacks. Digitalization for significant customer benefitsAnother focus of the exhibition will be on digitalization. In this context, the market leader in digital packaging machines will be presenting its GRIPS.world web-based platform, which will combine all the important functions for the monitoring and documentation of machine data in a single user interface.
In Las Vegas, trade fair visitors will have an opportunity to experience the potential GRIPS.world offers by means of a virtual demonstration on the booth. Utilizing sensors within the machine, a TLM robot's data will be shown on a display and provide information on the status of this standard system component. Based on data sourced, measures for preventative maintenance can be derived, among many other possibilities.
Service portfolio expansionWith its comprehensive portfolio of services, Schubert guarantees investment security and high system availability for its customers. In the USA and Canada, the packaging machine manufacturer is represented with locations in Charlotte, Dallas and Mississauga.
Rapid adjustment of the machines to new products, stocking wear parts or ordering replacement parts and robot tools are standard Schubert service offerings in North America. Schubert's service portfolio is now divided into five service areas – the Schubert Expert Center, the Schubert Parts Center, the Schubert Performance Program, the Schubert Uptime Program and the Schubert Flex Program. Individual service packages are offered as well.
More info: