At Anuga FoodTec, one of the key focal points for many packaging companies was technology to keep products fresher for longer, prolonging shelf life and thereby preventing food waste. Elisabeth Skoda explores just a few of the highlights.
Cardboard carrier skinpacks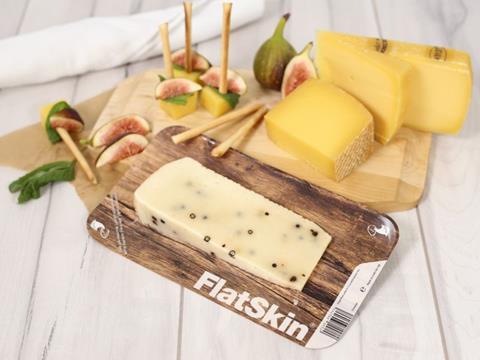 Amongst a range of food packaging solutions, SEALPAC, a manufacturer of high-tech traysealers and thermoformers, presented its all-in-one SEALPAC A7 traysealer at Anuga FoodTec 2018. . Next to the common MAP and TraySkin® systems, this piece of equipment reliably handles the newly developed FlatSkin® packaging solution that combines an attractive product presentation with increased sustainability through optimized recyclability.
The all-in-one SEALPAC A7 traysealer represents maximum flexibility in fully automated food packaging. Equipped with servo technology, this traysealer is suitable for a wide product range whilst achieving outputs of up to 100 packs per minute, depending on the application.
At Anuga FoodTec, SEALPAC will ran its brand-new FlatSkin® solution on the A7 traysealer, which combines the skin packaging process, which provides extended shelf life and attractive product presentation, with a plastic reduction of up to 75%. As such, the FlatSkin® system addresses the industry's strong demand for increased sustainability.
Marcel Veennstra, SEALPAC's marekting manager, explains what makes the pack sustainable:"Instead of common plastic trays, the FlatSkin® system uses cardboard carriers. A highly transparent barrier skin film fixates the product directly onto the flat cardboard carrier, which has been coated with a polymeric protective layer. This layer provides stability to the cardboard and forms a reliable barrier against grease, water and oxygen. After taking out the product, the thin polymeric layer is easily removed from the cardboard to allow for separate disposal. The carrier allows for double-sided printing, hence offering optimal space for product information whilst providing unique branding opportunities. Manufacturers may even save on the additional cardboard sleeve. FlatSkin® packs can be presented vertically (e.g. hanging or standing), making them true eye-catchers at retail. In addition, the flat product carrier and tight-fitting skin film provide an attractive 3D effect that highlights the content to the fullest."
Biodegradable humidity control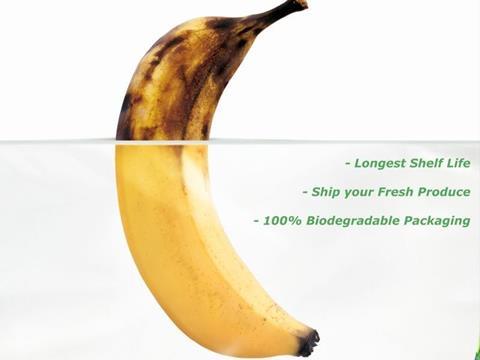 Uflex presented a solution to tackle the problem of condensation when transporting and storing highly perishable fresh produce, such as fruits, vegetables and flowers. Flexfresh is a special patented film made of proprietary polymeric composition that elongates the shelf life of highly perishable fresh produce
Flexfresh works in conjunction with a fast respiration meter and laser perforation system supplied by Perfotec B.V. of the Netherlands. While the respiration meter ascertains the respiration rate of the fresh produce, the laser system uses this information to adapt the permeability of the film with the help of perforation matrix.
"In Flexfresh, equilibrium of oxygen and carbon dioxide is maintained at all times while restricting the humidity between 90-95% to avoid condensation. The effect of ethylene emitted by the produce is greatly reduced during ripening amidst high humidity. The bag exhibits good carbon dioxide release characteristics. Neither gas flushing nor compressed vacuum technique is used here.
The amount of oxygen required by the product is the key point of the packaging. This is controlled by the perforation. The micro-perforation required is decided on the basis of oxygen and carbon dioxide required inside the bag," Mr. N. Siva Shankaran, Vice President, Flexfresh at Uflex, explains. "Flexfresh is the first ever film for packing fresh produce that is bio-degradable by composting and complies with all international regulations for overall migration (EC 1935/2004), reach compliance (EC 1907/2006) and qualifies for biodegradation under DIN EN 13432 (2000-12).
Flexible protection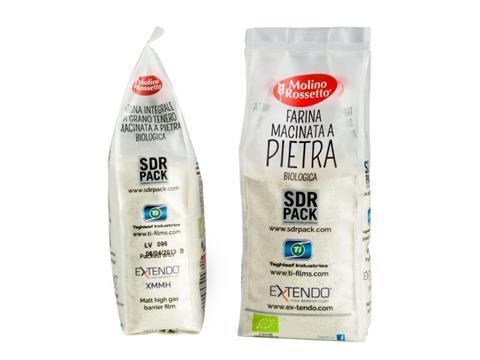 With the theme, 'Better Taste - Less Waste' Taghleef's global focus and three pillar strategy is food protection, sustainability and recyclability.
Taghleef has developed intelligent and creative substrates for food packaging and protection. A key priority for the company is to reduce the environmental impact with attention to recyclability. The company offers bio-based films and mono material solutions offering an alternative to other substrates such as coated films, aluminium foils, etc. which can make a remarkable contribution to the sustainability of modern packaging.
Among its specialized BoPP film range, Taghleef showcased its expanded range of EXTENDO® high barrier products, which extends shelf life by protecting foods against mineral oils - with benefits to logistics and distribution – while preserving their aroma and taste. Thanks to the mono-material solutions design, EXTENDO® films integrate the concept of eco-design which is one of the principles of the circular economy.
"The EXTENDO® high barrier film range brings together the advantages of BoPP films with the barrier performance typical of other high barrier polymers, providing innovative solutions for packaging weight reduction and improved recyclability. Despite their low thickness, these high-tech films assure highly efficient gas, moisture, aroma and mineral oil barrier for food, medical and consumer applications. Moreover, they reduce packaging waste, whilst making recycling easier, thanks to the possibility to design mono-material barrier laminates," Mario Molinaro, business unit director for flexible packaging, explains.
Taghleef also showcased its NATIVIA® range including transparent, white voided and metallized films developed using bioplastics derived from renewable sources (polylactic acid) thereby safeguarding the environment and offering more options at the end of the life cycle. They will also offer films with enhanced seal integrity, which are ideal for accurately preserving food products.
Extending shelf life with nanotechnology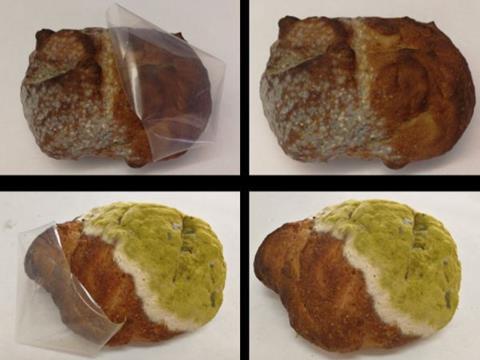 NanoPack highlighted efforts to develop and demonstrate antimicrobial packaging solutions for perishable foods based on natural nanomaterials that will prevent food-borne illness outbreaks and reduce food waste caused by early spoilage.
A first round of antimicrobial efficacy tests has demonstrated the NanoPack film's ability to inhibit mould growth on food-additive free bread.
Breads that were inoculated with relevant-mould spores and packed with NanoPack's innovative film insert had no mould growing for up to 27 days post packaging."The tests results confirmed the ability of our antimicrobial packaging solutions to significantly extend shelf life, improve food safety and reduce food waste," said NanoPack's coordinator Ester Segal, associate professor at the Technion-Israel Institute of Technology. "We are currently getting ready for the second round of testing with newer and more sophisticated film formats to expand these promising results to other perishable foods and further improve performance."
More info: