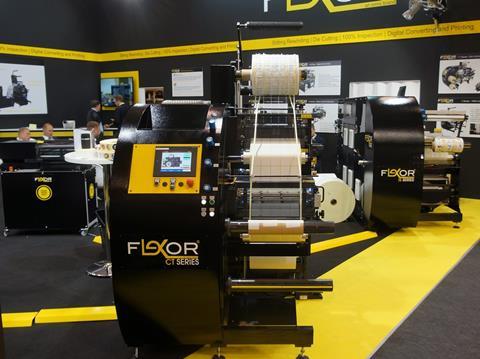 Besides the xCUT series FLEXOR has presented also the latest inspection IS Series machine FLEXOR 440IS, the new horizontal generation of 100% inspection machines. The machine was integrated with a BST Tubescan camera and provides a short web path in the paper buffer (6 m) and working speeds of up to 300 m/min. The new generation ensures short braking distance, ergonomic and fast operation by the user.
As each time, the biggest impression on the visitors was done by the slitter rewinder with a double die-cutting module FLEXOR 380 2C. The machine was producing blank labels at speeds of up to 250 m/min.! The separate servo drives on the nip roller and each rewinder control the speed, position and torque. This allows an accurate regulation of the rewind tension and a fast reaction to speed changes – it impressed everyone during the presentation of the machine at the exhibition (Producing blank labels at a speed of up to 250 m/min.!).
The presented solutions were complemented by the TRW Series, the automatic turret rewinder FLEXOR 410 TRW – a four spindle turret rewinder with length slitting and hotmelt glue application on core and tail. The machine was operated by a special robot putting cores on the spindle and taking the ready rolls off.
All operators on the FLEXOR booth had a great assistant – the roll lifter FLEXI ROLL LIFT 800L, that was appreciated even by the most demanding visitors.
More info: