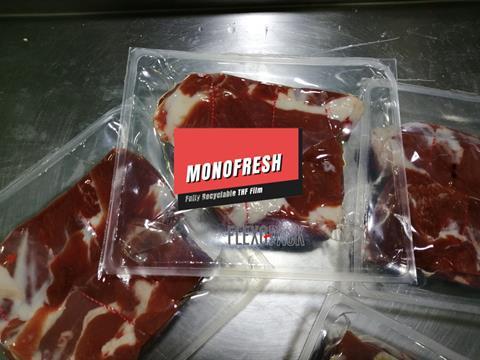 Flexopack has developed a new mono-material thermoforming film solution that it says can be used for the "most demanding consumer packaging applications."
The solution, which has been designed for recycling (as certified by the CYCLOS institute) and adheres to OPRL guidelines, reportedly provides improved formability and package integrity, as well as "crystal-clear" optical properties for enhanced product presentation.
The addition of specialized EVOH can also apparently guarantee the highest possible protection from O2 ingression.
Available in a wide range of thicknesses, transparency or tint levels, Flexopack is primarily targeting the concept at the meat, poultry, fish, and dairy markets.
MonoFresh is also suitable for sous-vide applications, meaning that, according to its maker, it can fully replace conventional multi-material thermoforming films.
In a statement, the company said: "Flexopack continues to collaborate with strategic value chain partners for the flexible packaging industry, to develop its range of mono-material solutions for flexible packaging.
"As part of our vision for a circular economy of plastics, we aim to develop novel polyolefin-based solutions, which are widely accepted in recycling streams worldwide and are designed with the recycling criterion in mind."