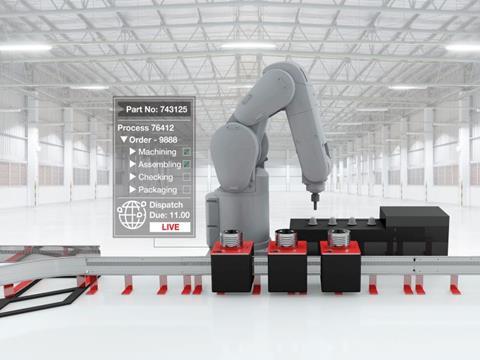 At SPS IPC Drives 2017 Mitsubishi Electric is presenting the latest developments of its modular Linear Transfer System (LTS) with Smart Carriage technology.
The new versions of the Smart Carriages build on their existing technical advantages – including on-board intelligence and data memory, plus freely configurable tracks – but now include on-board battery power to enable even more productivity. Operator safety is also addressed without compromising productivity: as workers approach, the Smart Carriages will first slow down, and then stop, but only in the section where is a potential hazard.
The innovative Linear Transfer System addresses industry challenges such as shorter response times to new market trends, increased demands for customization, and cost pressures. It offers greater production line flexibility by using on-board intelligence and connectivity to allow each carriage to behave differently and autonomously. For example, the Smart Carriages can choose the optimum route to reach next station and enable processing of the product being carried as they go along.
The new on-board battery system not only powers on-carriage devices such as sensors, controllers and memory, but also drives the carriage itself. This offers key advantages over alternative systems because it removes the need to draw power from the track, so increasing layout flexibility. There are also reliability benefits, since there are no brushes contacting the track to draw motive power for the carriage, which can create dust and required frequent cleaning. This advantage offers reduced maintenance and also makes the system suitable for use in clean environments.
A new safety concept allows cage-free operation and increased productivity. The implemented safety features such as Safe Torque Off (STO) and Safety Limited Speed (SLS) in combination with sensors detect when an operator is nearing the conveyor system and slow the carriages to a safe speed – but only in the local area where the operator might come into contact. Elsewhere on the LTS, operation continues at normal speeds and productivity is not compromised.
With a full suite of track pieces in different lengths and bend radii, and with the carriages being based on proven Mitsubishi Electric technologies, users can quickly and easily build a complete linear transfer system to meet their individual requirements.
SPS IPC Drives 2017, 28th –30th November 2017, Nuremberg Hall 7 / Stand 7-391
More info: