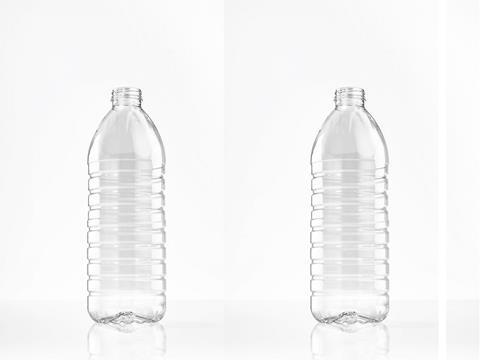 At drinktec this week KHS is presenting the Factor 100 – which it believes to be the lightest half-litre PET water bottle on the market – which was developed in collaboration with the Canadian injection moulding machine specialist Husky. The innovative design is optimised to suit its load and gives users huge material savings with the best possible stability.
The bottle's working title of Factor 100 is based on the fact that at just five grams the bottle weighs only one hundredth of its volume of 500 millilitres. "Compared to what was previously the lightest bottle on the international market to date, the new bottle allows a huge reduction in materials of about a third," explains Christian Rommel, project engineer for Bottles & Shapes™ at KHS Corpoplast.
The bottle design has been specifically adapted to give it as good a grip as possible and maximum dimensional stability. Its sophisticated geometry, derived from virtual prototypes, even has a higher top load in practice than originally predicted. State-of-the-art technical systems both in the injection moulding of the preform and in the blow moulder also permit the PET to be extremely precisely distributed across the bottle shape with optimum stretching. This means that more or less material is used in those areas where this is both feasible and prudent. With its smaller carbon footprint – the result of the aforementioned saving in materials – the lightweight also meets growing consumer demands for an ecologically sustainable form of packaging.
The upshot of this innovation is a reduction of more than 30% in environmental footprint thanks to using less material and energy during manufacturing, while still delivering on package performance.
Meanwhile, Husky is showcasing other collaborative projects introduced to the market, including developments with Krones, Sidel, PET Engineering and Invento. Husky's booth (#338, Hall A4) on day one featured live demonstrations of its industry-leading HyPET® HPP5 integrated PET preform manufacturing system, which is equipped with all-new Multi-Layer Technology that drew a steady stream of visitors throughout the day. Launched in 2015, Multi-Layer Technology has been embraced by customers around the globe for a wide variety of beverage, food and personal care applications.
The HyPET® HPP5 Multi-Layer system will run for the duration of the show producing a 17 gram carbonated soft drink application using a 72-cavity mould and running at an 8.7 second cycle time. The system is running a revolutionary new barrier material, Verian™ High Barrier Polyester (HBP), which was developed in partnership with Solvay Specialty Polymers. Verian™ HBP is an innovative, recyclable material that will enable a new generation of sustainable packaging solutions for PET bottles and films. The material is in the final stages of development, with production targeted to begin in the second half of 2018.
"As the vast majority of PET for plastic bottles is processed on Husky equipment we have a responsibility to ensure the technologies we develop, and any influence we have in the design of the package, support sustainable practices," said John Galt, Husky's President and CEO. "We aim to minimise the impact PET packaging has on the environment and work together with partners to increase compatibility with existing recycling streams. We are also thinking about the next generation streams, which take the circular economy into mind. Expanding the application range for injection mould plastics in a sustainable manner is both good for business and our environment."
Industry-leading closure weights and productivity
part of its extensive portfolio of off-the-shelf closure designs, Husky debuted three of the lightest closures available on the market today. Supporting the company's commitment to continuous improvement, Husky developed these new closures to meet growing single-serve and lightweight packaging trends. These closures contain special design features that maximise Tamper Evident Band performance and have been validated through extensive testing. Husky also introduced a mixed-reality Microsoft® HoloLens™ experience where participants are able to virtually interact with a life-size model of Husky's HyCAP™4 integrated system for beverage closure manufacturing. The HyCAP™4 system, introduced last year, features superior engineering advancements that take machine and mould integration to new levels, delivering industry-leading performance and productivity. The HoloLens™ experience is a crowd favourite, drawing significant attention from show visitors and allowing participants to not only see the HyCAP™4 running, but also walk inside the machine. Demonstrations on the HoloLens™ are available all week during regular show hours.
Shaping the future at PETnology
Today (12th September) Husky will be discussing industry trends and opportunities on the second day of the PETnology conference. John Galt will be providing a keynote address. Nicolas Rivollet, Director of Corporate Business Development at Husky, will deliver a presentation on engineered packages and how high-capability co-injection technology can help unlock new opportunities for PET packaging.