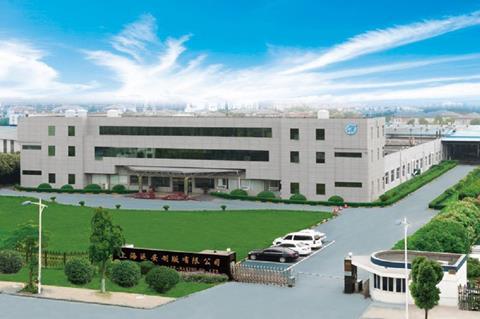 Eight months ago, Esko promised Asia's leading platemaker that it would transform its prepress operations. Today, Esko and Yuncheng announce that promise has been fulfilled.
Yuncheng Plate-Making Co. Ltd. was founded in 1994 and is based in Shanghai, China. It produces rotogravure printing, embossing, die-cutting, hot stamping, soft rotogravure and ceramic cylinders as well as flexo plates. Headquartered in Shanghai, Yuncheng has 75 sites across China.
Bjorn Willems, Esko's General Manager Greater China, explains: "Yuncheng had an existing software provider but was seeking a better solution that could drive automation, improve quality control and increase color proofing accuracy, including proofing spot colors on its Epson printers and CMYK matching of spot colors. After a thorough market review, the company chose to work with Esko."
After working with Yuncheng to understand the company's production requirements, Esko recommended installation of its web-based project management system WebCenter, prepress workflow automation software Automation Engine and 14 licenses of PackProof - the solution for automated color-accurate proofing. Also installed across its network were a large number of DeskPack prepress tools and Esko's Equinox, the total solution for the implementation of expanded gamut printing. All Esko solutions were up and running by the target project completion date. "Yuncheng was also testing a competitive solution in parallel," Willems noted. "However, that competitor has been unable to meet deadlines and requirements, whereas the Esko solutions are fully operational and already delivering significant results."
Yang Zhendong, Yuncheng's General Manager, comments, "A key element of our collaboration was dealing with the challenge of ensuring reliable color proofs by using PackProof. For gravure printers and trade shops, having a reliable color proof is extremely important, given the time and effort it takes to engrave a set of cylinders. Esko worked very hard with us to improve color accuracy of proofs, especially with regard to the overprinting of spot colors. Being able to rely on the proof is crucial, but what makes PackProof really unique is that it is entirely integrated into the Esko workflow, which we use every day to automate production."
He adds, "We are also looking at how we can continue to increase our output in an efficiently scalable way. Using professional tools and workflow helps make this possible."
Willems added, "During the test period, Yuncheng gained a greater understanding of what was possible with Esko's solutions, and that encouraged them to think about what else they would like to be able to do. That in turn challenged our research and development team in Ghent to adapt the solutions to more effectively support what was needed at Yuncheng. Eight months later, we have delivered on what we promised to this complex and challenging environment."
Yuncheng tested a variety of prepress solutions available in the market, but Esko's Automation Engine is currently the only one that efficiently handles real production to automate the prepress workflow. "We determined that Esko solutions were the best option on the market to help us achieve our goals of reduced lead time, improved quality and better equipment uptime," Yang Zhendong commented. "They are mature, reliable solutions with a well-established global installed base, and Esko truly understands our business. We have accomplished a great deal, and look forward to doing even more as we expand our relationship with Esko."
The next logical step is integration with Yuncheng's MIS system to further automate tasks like job creation and 3D model generation, and to reduce redundant data entry in general.
Geert De Proost, Esko's Director Solutions Marketing, concludes: "Yuncheng is a very dynamic company with a well-defined long-term strategy. It is regarded as a pioneer by both local and international companies. In a future where automation is a given, and where added value comes from connectivity and accessibility, the collaboration between Yuncheng and Esko has been mutually beneficial and will ultimately deliver increased value to the industry as a whole."
More info: