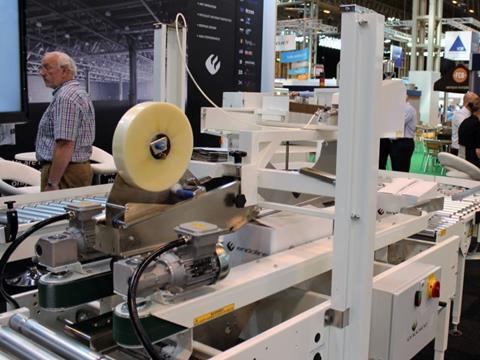 A brand new, entry level case sealing machine, which can be enhanced with a range of technical options to meet customers specifications, has been launched by end-of-line automation specialist, Endoline Machinery.
For the last 12 months Endoline have been catering to a growth in demand by almost 40% from food and FMCG manufacturers, particularly within the SME sector and overseas, looking for automation with a fast ROI. As manufacturers feel the hit from retailers who continue to squeeze profit margins, ROI can be a real deal breaker when it comes to purchasing machinery; however they are unwilling to compromise on quality. The new 611 Entry Level Case Sealer offers a low investment for manufacturers built to Endoline's typical high quality – but with the added option of technical enhancement further down the line if required.
"In reaching a decision to automate, our customer's businesses have evolved to a point where manual labour is often not an efficient use of time," explains Andrew Yates, Sales Director for Endoline. "However, we recognise that, as our customers continue to evolve, so too will the demands placed on their automated end of line solution. As a result the 611 Entry Level Case Sealer starts as a standard entry level pre-set case sealer, but we are still able to incorporate additional technical options to increase the specification as and when required for customers wishing to enhance the machine."
One of the additional options includes the integration of a dual action hook system, with fully interlocked guarding, if a customer is running heavy duty twin wall cases. Twin wall cases are essential for customers who export their product as they offer added durability during transportation; however they are inherently difficult to handle for packaging machinery due to their stiff nature. The dual action hook system ensures that the inner flaps of the case are effectively pushed into place before sealing, which overcomes tearing or the risk of the case opening at a later stage.
As systems become increasingly intelligent Endoline can also enhance the 611 to meet a customer's requirement to include specific electrical and mechanical components advised by the customer. The machine can also be modified to run cases outside the standard specification of the machine.
An award winning company for its innovative engineering prowess, Endoline have many bespoke, solutions throughout their case erecting and sealing range. From entry level erecting and sealing systems to high speed random and bespoke machinery, Endoline offers a full range of case sealers and erectors to meet any specification and budget. While the entry level system range can offer a better ROI than previous models, quality has not been compromised as Andrew concludes: "We liken the 611 entry level case sealer to a standard BMW which can have options added to it to increase the specification, depending on a customer's individual demands."
More info: