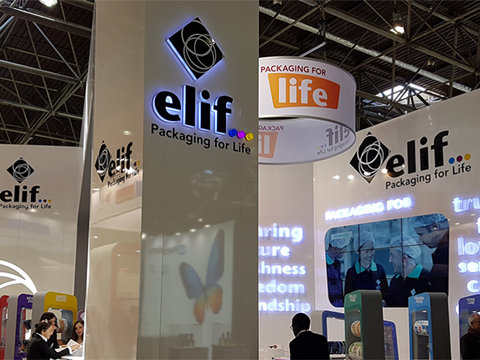 Elif, the global supplier for flexible packaging solutions, introduced its new packaging solutions centred around its 'Packaging for Life' motto at interpack 2017 in Düsseldorf, Germany. At the fair Elif introduced its new World Star Award Winner printing solution ElifHybr - an innovative, high-performance and eco-efficient solution addressing the latest consumer trends and FMCG sector demands.
Elif's new printing technology ElifHybr combines different printing technologies, makes use of the electron beam curing system and is able to offer optimum level of quality, cost-effectiveness, and environment-friendly production. By speeding up market introduction between 50% and 70% in average, ElifHybr offers great benefits to brand owners in FMCG industry who want to obtain competitive advantage with fast introduction of new products, promotions and campaigns.
Meanwhile, ElifHolo printing technology makes three-dimensional and holographic prints possible for genuine packaging solutions that ensure high visual effects and prevent forgery. ElifHolo meets the expectations of marketeers by creating visual effects and brand authentication. ElifHolo can be applied on most typical packaging materials and ensures significant cost reduction when compared to the existing hologram applications. The technology provides cold foil printing effect and UV application as well.
Elif also showcased its range of packaging solutions for pet food with features like holographic printing and cold foil as well as various pre-made bag, handle and reclosability options. Elif offers stand-up pouch, quad-seal (stabilo) and flat bottom bags specially designed for pet food sector.
This year interpack achieved a record level of international attendance and reached 170,500 visitors. Visitors had the opportunity to experience ElifHybr hybrid printing technology, ElifHolo holographic printing solution and ElifFine paperlike material/coating and more high-performance and sustainable solutions leveraging productivity live at the Elif booth during the show.