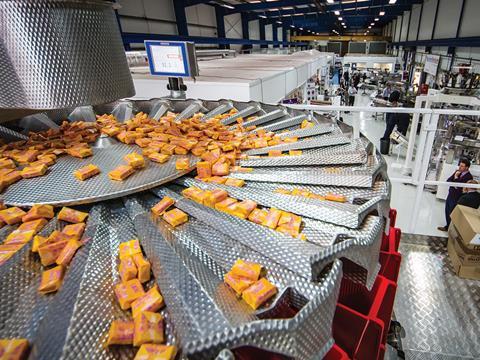 Barry-Wehmiller is a global leader in manufacturing technology for the packaging, corrugating, sheeting and paper converting industries. Philip Yorke talked to Carol O'Neill, the company's group president, Packaging, about its latest strategy for growth and the innovation and experience it will showcase at interpack.
Barry-Wehmiller (BW) was founded in 1885 in St. Louis, Missouri, USA, originally producing bottle washing equipment and pasteurizers for the brewing industry.
Today, the company is a market-leading player that is unique in its comprehensive range of products and services. By blending people- focused leadership with disciplined operational strategies and purpose-driven growth, BW has become a €2.4+ billion global organisation with more than 11,000 employees in 28 countries.
BW Packaging Solutions
Barry-Wehmiller has grown over the years to incorporate more than 80 acquisitions worldwide. Its packaging companies include Accraply, BW Container Systems, Hayssen Flexible Systems, Pneumatic Scale Angelus, Synerlink and Thiele Technologies divisions. Within those divisions are many brands familiar to the European market – Arcil, Hema, DairyPak, Hudson-Sharp, Rose Forgrove, Schib, Mateer, Sandicare, Simionato, Dosil, Dinieper, Slidell, Ambec, Fleetwood, Goldco, Wyard, SYMACH, Stanford, Graham, Sleevit, Trine and many more.
Recently, BW introduced a new initiative – BW Packaging Solutions—to better serve customers through its comprehensive and customizable offerings. "BW Packaging Solutions is the team of people from across Barry-Wehmiller who are committed to tapping the best of our collective insights to benefit companies seeking solutions to their packaging challenges, " O'Neill said. "Whether the need is to design and build a new line or to identify and purchase equipment that will improve efficiency, flexibility and throughput, this team is a resource to companies large and small."
The forthcoming interpack International trade show in Dusseldorf will give customers old and new an opportunity to learn more about the company's latest products first hand at Hall 6 Booth D62.
Pioneering integrated technologies
O'Neill said, "We are clearly differentiated from our competitors because we are a truly global operation with highly specialised and dedicated industries in more than 100 locations worldwide. We are committed to providing lifetime support and tailored services for all our customers. For example, in addition to training and consultancy, a customer might want a unique filler-capper, or for us to create a case-packing and palletisation facility. Anything is possible at BW.
"At interpack, what we most want attendees to know is that through our six different businesses, we offer a cohesive platform that covers the full breadth and depth of the packaging business. And we can serve your needs wherever you are in the world. Today we are continuing to see strong growth in all our markets, including in Europe and North & Latin America, and have also started to see real growth in South Africa. In addition, we have now established a small, select sales team in India."
Increasing European presence
Accraply is one of the numerous subsidiaries of Barry-Wehmiller and specialises in product decoration and material converting. It also represents some of the industry's most trusted brands, including Sleevit, Stanford and Trine.
The company is a global leader in the design and manufacture of pressure-sensitive, roll-fed and shrink-sleeve label application systems, as well as cutting-edge converting and finishing equipment.
Recently, Accraply acquired Harland Machine Systems of Manchester, England, further strengthening its European presence. Harland specializes in the design and manufacture of a comprehensive range of high quality, reliable, efficient and cost-effective self-adhesive (pressure-sensitive) labelling machinery.
"Harland complements our existing self-adhesive business with robust technology, a global sales and service network, and a dedicated team that brings experience, passion and a determination to deliver exceptional performance for our customers," O'Neill stated. "It's a trusted brand that we're proud to now steward."
A global powerhouse
O'Neill said that the formation of BW Packaging Solutions represented a coordinated, comprehensive approach to the needs of their clients. "At Barry-Wehmiller, we've recognized there are changing needs in the marketplace. Our company is a $2.4B privately-held organization with over 130 years of proven packaging experience. Our global clients are seeking solution providers that provide not only innovative equipment and a lifetime of support, but have also invested in the ability to provide integrated solutions and mitigate client risk."
For further details about BW Packaging Solutions, visit: www.BWPackagingSolutions.com