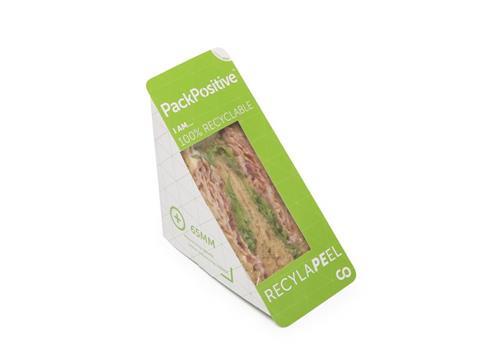 As one of the latest manufacturers to sign up to the 2025 UK Plastics Pact, Coveris has outlined its plans to target recyclability, packaging and food waste reduction as part of a new sustainability strategy, Pack Positive™.
Combining expertise in food waste reduction and packaging functionality with improved recyclability and material innovation, Coveris has announced a new set of environmental commitments as part of its Pack Positive™ sustainability strategy. Aligning long-term targets with the UK's 2025 Plastics Pact, the manufacturer has outlined a three-point reduce, recycle, sustain strategy which also focusses on supply-chain collaboration and education to promote the positive role packaging plays in our everyday lives.
The UK Plastics Pact brings together businesses from across the entire plastics value chain with an ambitious set of targets and a common vision to create a circular economy for plastics. As part of this, signatories have committed to deliver four targets which include taking actions to eliminate problematic or unnecessary single-use packaging through redesign, innovation or alternative models, 100% of plastic packaging to be reusable, recyclable or compostable, 70% of plastic packaging effectively recycled or composted, and 30% average recycled content across all plastic packaging.
Coveris occupies a unique industry position in its ability to offer both paper and plastics solutions, focusing on delivering the most resource efficient, sustainable solutions for the whole value-chain, whilst supporting the journey towards a circular economy and addressing food waste, packaging waste and the wider environmental impacts of plastic.
In signing up to the Plastics Pact, this has allowed the manufacturer to take a more balanced and collaborative approach to supporting its environmental agenda. Gary Rehwinkel, Coveris' UK President commented "over recent years Coveris has worked strategically with retailers and manufacturers to drive down food waste across the supply-chain and improve the functionality of packaging. We now need to broaden our long-term sustainable outlook to focus more on the end-of-life function of our products to support a circular-economy and ensure our recyclable products are in fact recycled."
Outlining its agenda under three strategic pillars, Pack Positive™ looks at smarter ways of improving recyclability and reducing waste in line with Plastics Pact targets:
Reduce
UKPP target: Take actions to eliminate problematic or unnecessary packaging items through redesign, innovation or alternative delivery models.
Packaging should be functional, minimise the product and packaging environmental footprint, and be reusable, recyclable, or compostable after use. Optimum packaging design creates the maximum benefit across all these areas, whilst also reducing other forms of waste, such as energy and food waste. By consistently challenging materials, formats and resources, major environmental benefits can be delivered across he value-chain via minor changes.
For example, Coveris' extrusion facility in Winsford has developed technical films for potatoes that reduce bag thickness by over 70%, delivering a lightweight solution that maintains the same functionality and freshness as the previous packaging. The facility is also soon to launch a new vacuum skin-board (VSB) with a major retailer which removes over 60% of the plastic weight using a sustainably sourced cardboard tray.
Recycle
UKPP target: 100% of plastic packaging to be reusable, recyclable or compostable, 70% to be effectively recycled or composted, 30% average recycled content.
As the UK's largest extruder of PE films, Coveris is strategically positioned to offer more recycle-ready films, as well as developing new materials that are easier to deal with after use, whilst working with the waste reprocessing sector to make what is recyclable, more widely recycled.
The manufacturer has recently developed a sandwich pack that allows for the easy separation of film from board, thereby providing a more readily recyclable solution. Whilst sandwich packs are being labelled on-pack as 'widely recyclable', the current mixed material composition of OPP and board means that this format is only actually separated/recyclable by <5% of UK waste streams. Coveris' RecyclaPeel™ solution replaces traditional OPP film with a high-tensile strength PE liner and tab function to enable the peel-away of film. Both materials can then be separated, with the board component being fully recyclable as repulped content.
Coveris also takes a circular-economy approach as a business, recycling over 6,500T of production, customer and residual waste from the supply-chain each year - the equivalent in weight to around 4,300 cars in the UK.
Sustain
Supporting customer commitments to Courtauld 2025 to deliver a 20% reduction in UK food waste through our strategic collaboration with leading retailers and manufacturers.
Coveris develops smarter packaging solutions that reduce overall waste and sustain product life, freshness and integrity for longer. Under its Freshlife® brand, Coveris has developed intelligent films to manage moisture, respiration, oxygen and ethylene via innovative perforation or active technologies. Significantly increasing shelflife, freshness and improving food safety, Coveris has recently worked with supplier Greencell, to develop an intelligent solution for Tesco and Waitrose ripe avocados. Working with Coveris' dedicated Food Science facility in Gainsborough, Greencell has combined patented UV technology with Coveris' MAP technology to extend shelf-life by +2 days.