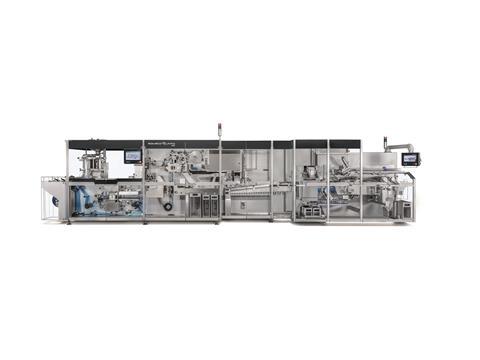 Three packaging lines, including one with an upstream tablet press – Romaco will take advantage of the upcoming Achema to demonstrate its latest solutions when it comes to configuring turnkey concepts. The manufacturer will also show a whole series of standalone units for pharmaceutical production and packaging.
Romaco Unity 500 in line with the Promatic PTT and the Promatic PAK 130
Romaco's new Unity 500 blister packaging line is set to make its public debut at Achema 2018. This monobloc machine will be on show in line with the Promatic PTT for seamless track & trace and the new Promatic PAK 130 case packer. Romaco specialises in single-source turnkey concepts – with the primary, secondary and final packaging all in one line. A compact, GMP compliant design was a key priority for the fully integrated blister packaging line. With a maximum output of 500 blisters and 150 cartons per minute, the Romaco Unity 500 is mainly intended for high-performance jobs at medium speeds.
For the first time ever, the Romaco Unity 500 will be teamed up in Frankfurt with a Combo v2.0 feeder from Elizabeth Europe. This patented system gives Romaco increased flexibility for feeding pharmaceutical solids in numerous different shapes and sizes. The finished blisters are passed directly to the cartoner's bucket chain by means of a vacuum assisted overhead conveyor and QuickTransfer, which works according to the positive transfer principle. Separate servo drives ensure safe operation at the individual stations. Apart from an advanced level of automation, the Romaco Unity 500 also offers excellent opportunities for improving overall equipment effectiveness (OEE). The optimal access to all components speeds up and simplifies cleaning of the blister line. The fast product changes add up to significantly less downtime for the Romaco Unity 500. Reproducible format parameters and QuickAdjust, the automatic station control system, simultaneously reduce the run-in times to almost zero.
Innovative final packaging solutions with track & trace function
The Promatic PTT, which can be flexibly connected to any standard cartoner, checkweigher or transfer system, was developed by Romaco to enable tamper-evident identification of cartons. This new track & trace machine provides numerous functions for seamless monitoring all along the supply chain, for example the cartons can be laser or inkjet printed with 2D Data Matrix or QR codes. The data can then be read out using OCR/OCV. The packs can additionally be closed with various seals or labels for even better protection against counterfeiting. A vignette applied to the top of the carton provides further proof of originality. An interface to special serialisation software rounds off the Romaco Promatic PTT.
The Promatic PAK 130, too, is shipped ready for integrating aggregation and serialisation solutions. Up to five shipping cases per minute can be filled with this semi-automatic machine. Romaco will show the compact Promatic PAK 130 at Achema in line with the Romaco Unity 500 and the Promatic PTT.
Romaco Macofar LF 202 liquid filler with the Promatic PC 4000
A Macofar LF 202 attached to a Promatic PC 4000 continuous motion cartoner will be another highlight at the upcoming trade fair. This latest member of Romaco's Macofar LF product family was likewise designed for processing non-sterile liquids and is ideal for filling not only pharmaceuticals and cosmetics but also nutraceuticals. To meet the requirements of such diverse applications, the Macofar LF 202 can be equipped with various filling, check and closure systems. The version with a table top design has two closing stations to enable dosing caps to be fitted to bottle screw caps, for instance.
With a maximum output of 12,000 bottles per hour, the Macofar LF 202 is up among the leading performers at high speeds. The actual production speed always depends on the bottle size and the filling volume, which ranges from 0.5 to 500 millilitres. Versatile technology is a must here. The positive bottle handling principle and the positive transfer of the stoppers and caps by means of pick & place guarantee a highly reliable process whatever the application. If necessary, the Macofar LF 202 can also be equipped with laminar flow or supplied in an ATEX version.
The filled and stoppered bottles are transferred to Romaco's Promatic PC 4000 continuous motion cartoner and packed in cartons at a maximum speed of 250 units per minute. In addition to the obligatory leaflet, various medical devices such as spoons or pipettes can be inserted depending on the customer's requirements.
Integrated line for tableting and packing dishwasher tabs
Romaco Kilian and Theegarten-Pactec will join forces to show an integrated solution for tableting and packing triple-layer dishwasher tabs together with an AZO powder feeding system. The powerful Kilian KTS 1000 is tailor made for processing corrosive, abrasive or acidic products. The dishwasher tabs are transferred to the Theegarten-Pactec FPC5 and wrapped in flow packs with a maximum output of 1500 tablets per minute. In addition to numerous industrial applications, the Kilian KTS 1000 is also ideal for the food and cosmetics segments.
The extra-robust KTS 1000 tablet press is offered in three different configurations. The 3L model for compressing triple-layer tablets is shipped by Kilian with three fill shoes and four compression stations. The tablet press achieves compression forces of up to 120 kN with a pitch circle of 840 mm. Targeted measures reduce in-process vibration to a minimum. The patented, wear-free punch brake magnets and hydraulic overpressure protection enable an even more reliable process. Thanks to its dedicated tooling and optimised product feeding system, the Kilian KTS 1000 compresses even sticky or poorly flowing powders efficiently.
Other highlights at the Romaco booth
Apart from these line configurations, Romaco will also show several technologies for packing, tableting, granulation, coating and drying pharmaceuticals. A Siebler HM 1-230 strip packaging machine, tablet presses in the Kilian KTP, KTS, K and STYL'ONE Evolution series and Innojet VENTILUS® processing machines will provide an impressive demonstration of the Romaco portfolio's diversity. Romaco's newest service products will round off the engineering specialist's trade fair exhibit.
Blister formats from Romaco Noack can be created quickly and easily using the new BlisterMagic software. The system checks automatically whether the desired formats are feasible based on the product specifications. PartGuard, developed by Romaco Kilian, will in future be responsible for procuring and managing spare and wearing parts. This innovative warehouse system keeps a continuous watch on the customer's inventory levels and makes sure owners of Romaco-built equipment have all essential spares in stock in the right quantity exactly when they are needed. Last but not least, Romaco will present the latest generation of its smart glasses.
On show at ACHEMA in Frankfurt/Main (Germany) from June 11 to 15, 2018 (Messe Frankfurt, Hall 3.0, Stand B49).
More info: