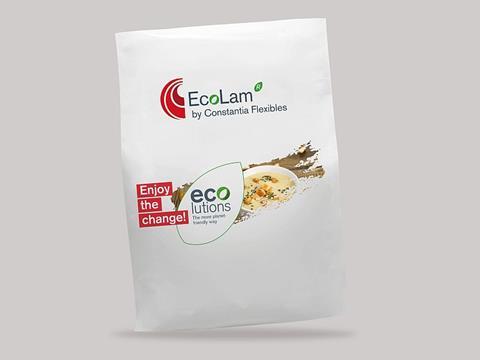 When replacing one million standard aluminium lids with EcoCover, savings can be achieved equal the amount of CO2 emitted by approximately one passenger car driven for one year: This corresponds to a reduction of the carbon footprint of up to 50%, which can be achieved by downgauging of the aluminum thickness, which saves valuable resources. Although the thickness of the aluminum layer is reduced, the material can still be identified as aluminum and sorted for aluminum recycling. In combination with UV-Flexo printing the production of EcoCover is also completely solvent free. The product is also characterized by a high corrosion resistance, a wide range of sealing temperature as well as easy peeling properties. All these qualities make EcoCover the perfect lid for yoghurt cups, other food and pharma products.
EcoTainerAlu: avoid harmful substances
EcoTainerAlu is an alumini-around foil container system mainly used for pet food. Thanks to a new, water-based – instead of a solvent-based – coating system for the container as well as for the punched lid, the emission of Volatile Organic Compounds (VOCs) can be avoided. In addition, no chromated foil is used for this packaging solution and it is recyclable via the aluminium recycling stream. So, EcoTainerAlu fulfills sustainable requirements, but also perfectly preserves the packaged product."Our packaging line for more sustainability will continue to be extended. At the moment, we are working on compostable solutions for small packagings such as stick packs which hardly can be recycled", says Baumgartner.