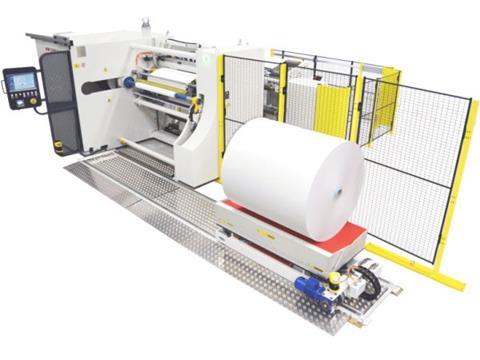 At the interpack fair, the group will also show its wide range of printing, laminating and slitting solutions such as L20000 or its awarded laser technology.
Comexi, specialist in solutions for the flexible packaging industry, is taking part in this new edition of interpack fair where the group is presenting its new innovation: the Comexi S1 MS slitter. A top range machine designed to obtain excellent results in those jobs that require working with non-stretchable materials and with big outputs reels.
Comexi will showcase and explain all the details of its latest technological solution in its stand located at Hall 13 Booth D67.
Following the strategy of being the main global supplier for the flexible packaging industry, Comexi has positioned itself as one of the leading and cutting-edge companies in the development of solutions for printing, laminating, slitting and industry 4.0. After the latest innovations launched in 2016 at the drupa and K fairs, such as Comexi F1 flexo press and Comexi's CI8 offset technology, now interpack is the perfect scenario to reveal the latest development of the group.
The Comexi S1 MS slitter-rewinder has a new mono-shaft system that allows you to work comfortably with large reels of paper, cardboard, self-adhesive tapes, aluminum, BOPP and other laminated materials that have a certain degree of rigidity or won't be easily stretch with tensions such as the materials used for pet food, pouches or pharmaceutical packaging. "This machine satisfies two of the booming market trends. On one hand, the need to work with more complex material structures and, on the other hand, the need to optimize the production of bag making machines or machines that produce pouches thanks to the use of input reels with larger diameters", highlights Comexi's Slitting Brand Manager, Albert Torrent.
This slitter has a perfect control of the tension thanks to a close loop system. Moreover, the Direct Drive System provides a perfect transmission between the motor torque and the shaft.
Also, its ALWS rewinding system with fixed lay-on roller improves the quality of slitting and rewinding. These elements, together with the possibility of producing up to 1.300 mm output diameter reels and its high level of automation when unloading, make the S1 MS slitter a highly productive and efficient machine.
"We have already sold three units. Now, at this edition of interpack trade fair, we want to consolidate its world launch", explains Comexi's Slitting Brand Manager.
More info: