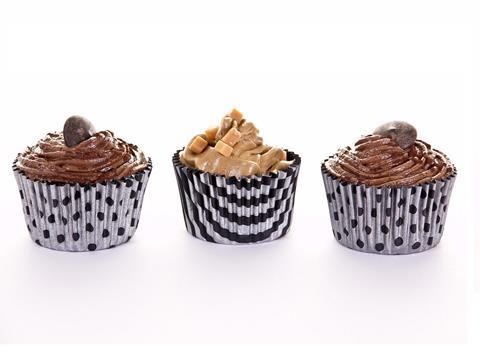 Following the success of the stunning-looking, premium Vogue range of tulip muffin wraps Chevler has responded to customer demand and has added the stylish pattern to its cupcake case range.
Garry Parker, marketing and business development manager of the Hengoed, South Wales-based company which is the UK's leading manufacturer of baking cases, tulip muffin wraps and a major printer of greaseproof paper, explained the reasons behind the move.
He said: "Our black and silver tulip wraps have proved to be extremely popular with bakery businesses and coffee shops of all sizes. You can even find them in supermarket in-store bakeries. The novel use of water-based, metallic inks gives the wraps their quality appearance and appeal. As a result customers have been asking when the design would be available as a cupcake case. Well, now it is!
"The new, sophisticated cupcake cases will appeal to both bakers and coffee shops retailers who are looking to offer their customers a bit different and more adventurous than a plain white case. They will also help cupcake makers add considerable value to their product and enable them to present their work in a high quality printed case.
"They are manufactured to strict food hygiene standards using high quality grease resistant paper and food safe ink which is specially made for us. We believe we are unique in that that we use water-based inks and not solvent-based which can taint the product and produce an unpleasant odour."
The new black and silver polka dot and stripes cases are available in the ever popular 51mm x 38mm size and in packs of 600 from local stockists.
More info: