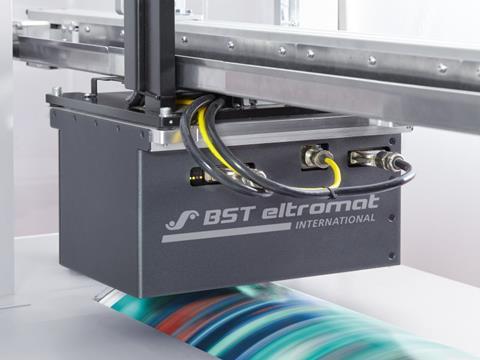 The variety of solutions provided by BST eltromat for quality assurance in narrow web applications such as label printing ranges from web guiding systems and products for colour measurement and management, 100% inspection, and web monitoring through to workflow solutions.
The inspection systems from the BST eltromat cooperation partner Nyquist Systems complement this offer. At LABELEXPO EUROPE 2017 Nyquist Systems will be presenting e.g. new developments in the workflow area of the TubeScan family. Visitors can find out more about Nyquist in hall 7 (booth B38) and discover BST eltromat's comprehensive portfolio of solutions in hall 6 (booth E60).
Whether labels, flexible packaging or other products which are produced with narrow web printing machines – branded companies nowadays expect only perfect products from their print service providers. Colour deviations will not be accepted, nor will missing print elements, poor printing quality, imperfect bar codes, marks, ink splashed, folds, creases or punch skeleton waste. But despite the latest technology, all printing and production methods have potential sources of error. Which is why manufacturers of labels and packaging require powerful solutions for quality assurance which reliably identify defective products and allow them to be removed from the production process.
Quality requirements vary greatly, depending on what labels and packaging are to be used for. In order to meet the broad spectrum of market requirements regarding the quality level, while also taking economic aspects into account, BST eltromat has developed a comprehensive portfolio of solutions for 100% inspection and web monitoring in narrow web printing machines – and is continuously expanding this. With several thousand installations worldwide, the company has in-depth knowledge and can offer its customers competent advice, particularly regarding new applications and requirements.
Solutions for introducing quality assurance
The inspection systems within the TubeScan family offered by cooperation partner Nyquist Systems are convenient and flexible products of introducing quality assurance in narrow web printing machines and on rewinders. As part of an agreement with Nyquist Systems, BST eltromat is the exclusive sales partner for these products around the world.
At LABELEXPO, Nyquist Systems will now be presenting the QLink Workflow. The QLink Workflow solution offers TubeScan users new possibilities for synchronization, data handling, and error editing with relatively low investment. QLink was developed for customers who use TubeScan systems on printing and slitter rewinder. Using the roll protocolls produced by the TubeScan systems on the printing machines, they automatically control the cutting machines and also serve here as independent 100% inspection systems. This means that rolls originating from printing machines which are not fitted with TubeScan systems can be inspected. Furthermore, the systems allow missing label inspection to be carried out on cutting machines and if labels are also punched here those defects can be inspected for too.
The QLink Workflow optimizes the handling of roll reports and reduces their file sizes compared with standard reports with error images to around ten percent. With the new QLink Editor, machine operators can evaluate the relevance of defects detected on their printing machines almost in real time. Larger areas such as missing colours can be defined as waste areas and cut out of rolls. In addition, the QLink Editor offers a permanent update function for yields in labels and running meters. This allows overproduction to be easily avoided.
"Thanks to their compactness, the ease with which they can be operated and installed, their modular expandability and their robustness, the solutions from Nyquist Systems ideally complement our products for quality assurance in narrow web production processes. The close partnership, which allows us to assume a unique position in the global market, will also be underlined at this year's LABELEXPO," explains Hans-Peter Stockkamp, Global Sales Director at BST eltromat. And so the exhibition booths of BST eltromat and Nyquist Systems will be staffed by mixed teams of experts from both companies, so that visitors can be provided with comprehensive information and advice.
Web monitoring with the POWERScope 5000 digital web monitoring system
In 2016, BST eltromat presented the POWERScope 5000 – a completely redeveloped digital web monitoring system. The entry-level model for web monitoring in narrow or medium-width printing processes represents outstanding value for money and offers all of the functions that machine operators require for efficient and flexible web monitoring. Its predecessor, the POWERScope 4000, was also very successful in the global market. More than 1.000 of these systems were sold between 2015 and the market launch of the successor model alone.
The modular POWERScope 5000 offers consistently high image quality. The electronic and wear-free zoom delivers excellent images of the printed webs, free of distortions, while the high-power LED strobe ensures an even illumination of the webs and a long service life. This allows machine operators to recognize printing irregularities reliably and quickly. The compact design of the camera unit means that the space required is minimal. The system also features an innovative operating concept with intuitive gesture control, similar to the two finger gesture control in smartphones. The user interface is reduced to the key functions for the printers, making it extremely clear and simple to operate. An optional touch screen is available, which combines the display of live images from the printer and operation in a user-friendly way.
With its continuous further developments, BST eltromat has long been providing the market with new quality assurance possibilities. Often, suggestions made to the company by OEM partners and customers are implemented. And so at LABELEXPO BST eltromat will be presenting a new back strobe for the POWERScope 5000 for monitoring front to back register. Equipped with LED units, this strobe is dimmable. This means that less light can be used for thin materials and more light can be used with thick substrates. The design allows for homogeneous illumination of the the web even in the case of larger areas. Pin-sharp image is a further new function which allows the image resolution to be increased even further, without influencing the zoom value.
Powerful solutions for 100% defect detection in real time and web monitoring
SHARK 4000 LEX for 100% defect detection in real time was also developed for use in narrow web printing machines and on rewinders. The powerful system combines sophisticated technology with an extensive function package and comprehensive defect management software. Equipped with a choice of a high-resolution color or grayscale camera (4,000 or 6,000 pixels), SHARK 4000 LEX detects even the smallest defects. The system, which can be controlled via a touch screen, classifies defects clearly according to established defect types. The defect locations are visualised in the corresponding lanes, so that they can be found reliably in the webs. The smart flagging interface allows the defects to be tagged according to size or position. The most recently detected defects can be retrieved using the defect history function and graphically displayed.
SHARK 4000 LEX can be used with a variety of different substrates, including highly reflective materials, whereby the examination areas for the printing inspection can be adjusted for different applications. Jobs can be stored in the system and retrieved again at any time. Optionally, the SHARK 4000 LEX can be connected to Workflow systems for direct evaluation of the roll protocols generated.
The SUPER HANDYScan 4000 web monitoring system with a high-resolution digital camera wins customers over with its latest technology, a space-saving one-screen concept, and its extremely clear images. Various functions like split screen overviews, position memory with gallery function, and numerous zoom possibilities are already included in the standard version of the powerful system.
iPQ-Center – a strong all-rounder for quality assurance
The systems included in the modular iPQ-Center (Increasing Productivity & Quality) meet the highest requirements regarding quality assurance in narrow web applications such as label manufacturing. It encompasses four modules, including iPQ-Check for 100% print inspection, iPQ-View for digital web monitoring, and iPQ-Spectral for spectral inline colour measurement. The backbone of this modular solution is iPQ-Workflow, which perfectly links these three systems to create one comprehensive quality assurance process.
More info: