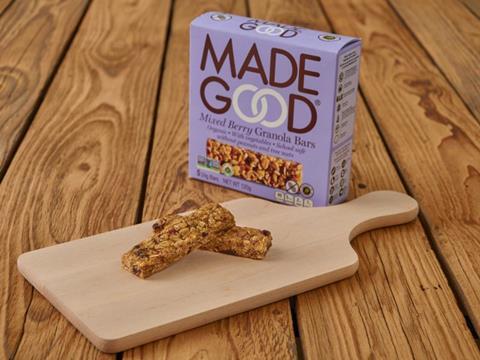 At PACK EXPO Las Vegas 2017, Bosch Packaging Technology will showcase a new customer project to produce and package granola bars on a fully integrated bar system, from mixing to palletizing.
"We will provide Canadian confectionery manufacturer, Riverside Natural Foods Ltd., with a complete system solution. The Bosch bar production and packaging system offers easy operation and cleaning as well as the right level of automation and format flexibility", says Klaus Haebig, Sales Manager for North America at Bosch Packaging Systems in charge of this project.
"For our MadeGood® granola bars, we wanted to find a best-in-class solution from mix to pallet and Bosch offered leading technology for every part of the process", Nima Fotovat, founder of Riverside explains. "At PACK EXPO we will be able to take a first look at parts of our new line, which is very exciting for us", Fotovat adds.
Processing equipment that minimizes product wasteAfter all ingredients of the granola bars are mixed, the WRF 600 Flex roller former forms an exactly defined slab. The new WRW 600 Flex compression roller then precisely compresses the slab to the needed height and weight. The WRF two roller former-concept in combination with a cross flow tempering allows for an even mass slab and gentle product handling. Both, the WRF and WRW former operate with full flexibility in width and height and are designed to minimize or completely avoid any cutting off or 'trimming' of edges. The rolled out slab is pre-cooled, cut lengthwise, and fanned out, only to then be cut crosswise and cooled completely.
Efficient handling and flexible primary packagingThe granola bars then enter the Sigpack DGDE, a new distribution station that gently places the products in line. The electrical cabinet amongst others is nowintegrated into the layout itself, resulting in an increase in output per square meter. The intelligent Sigpack FIT product infeed with linear motor technologyfacilitates push-button format changes, as well as fast, non-contact and gentle product feeding. Next, the products are transported to the Sigpack HRM flowwrapper, which wraps 600 MadeGood® granola bars per minute. The application of Bosch's patented, fully automated high performance splicing (HPS) unit to theflow wrapper enables seamless splicing, improves line efficiency by minimizing downtime and reduces product waste.
Secondary packaging for maximum pack style flexibilityThe wrapped products continue on to the Sigpack TTM1 topload cartoner, which forms, loads and closes up to 100 cartons per minute. The patented changeoverconcept allows for maximum pack style flexibility. The cartons are then processed by the Elematic 1001 sideload case packer, which packs them intoRegular Slotted Cases (RSC), also known as American cases. Both, the Sigpack TTM1 and the Elematic 1001 are ergonomic, robust and enable tool-lesschangeovers in just a few minutes. In the last step, a so-called Cobot -collaborative robot - handles palletizing.
Raising the bar in terms of flexibility"Riverside currently packages three different formats for customers in over 30 countries. Consequently, quick changeover times are crucial in order to switchbetween the different formats with maximum efficiency and flexibility", Haebig explains. Nima Fotovat adds: "Bosch excelled in terms of expertise andconsulting throughout the planning process. Their team was very understanding and took all of our needs into consideration, which we appreciated as such ayoung and small enterprise. Now we are eager to start production on our newline and realize the benefits of our investment."
To learn more about the Bosch bar packaging system and to witness live demonstrations, visit Bosch Packaging at PACK EXPO Las Vegas from September 25 to 27, 2017, Central Hall, booth 2800.
More info: