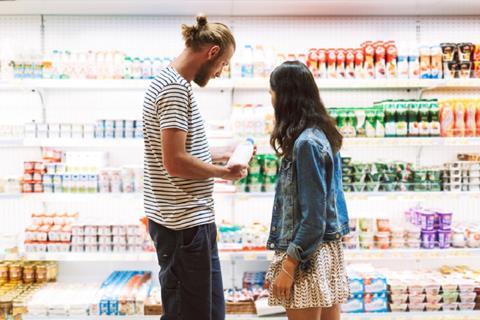 "If the label continues to do its job effectively in line with consumer demand and emerging trends – even if it goes completely unnoticed – we are happy with its performance," muses Benoit Gourlay, European consumables manager and business development manager at SATO France.
Labelling innovation can generate momentum for change across the supply chain. Libby White profiles innovations that have impressed, providing differentiation, achieving sustainability goals and optimising performance in challenging conditions.
Retail channel influence
The importance of labels in the packaging ecosystem is often overlooked. Benoit Gourlay comments: "Technology is developing at an exponential rate, and sometimes – as consumers ourselves – we see disconnects between the available technology and the result we want to achieve. For example, a superior in-store experience does not necessarily equate to a great online experience with the same brand. New auto-identification and labelling solutions ensure that products can be tracked and traced wherever they are in the system, helping to streamline processes and resources for a wide range of applications.
"A high percentage of consumers now expect retailers to be able to track goods wherever they're located in the system, order them online for home delivery, into store or to a local delivery locker and so forth. In China, RFID enabled labels now allow consumers to enter staffless stores, make a purchase and walk away. At SATO, our aim is not to educate the consumer but to make it easy for operatives to deliver on their expectations."
For example, SATO and food services specialist Comerso have partnered to help combat food waste for one of France's largest grocery retailers. An on-demand solution helps draw the consumer's attention to end-of-life products. The system, which utilises SATO's TH2 and PW2NX Series portable label printers and is specially designed hands-free adaptor kits for trolleys, connects automatically to the retailer's network and database to automate mark-downs for operators.
Mr Gourlay says: "The system removes the possibility of input error and saves on paper and backing liner waste. At a glance, the customer can identify the saving they'll make if they choose a marked-down item. We've also added value for the customer by implementing linerless labels, which offer substantial environmental and cost-saving benefits. Not only are we supporting the prevention of unnecessary food waste, we are helping the retailer to reduce its carbon footprint."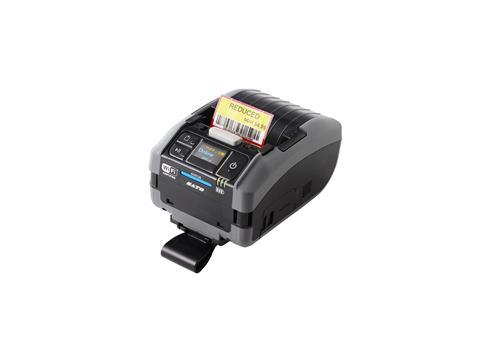 By incorporating SATO's intuitive printers, the retailer has increased its resale rate of marked-down items by up to 85 per cent. Furthermore, integrating the system into track and trace technology allows the company to review its unsold items against future orders.
"The solution enables the retailer to scan the barcode of a product, search the retailer database and select the appropriate label setting for 'standard', 'on sale' and 'donation'. A multi-coloured labelling system is then used to allow users to quickly identify the stage of products on shelf," explains Mr Gourlay. "Taking our Comerso partnership as an example, we can influence consumer buying decisions by encouraging them to easily identify end of life products. This allows them to make an informed decision on whether they prefer to buy a marked down product or let it go to waste," Benoit Gourlay underlines. "In this way, we are contributing to solving global challenges with preventative measures, rather than finding a cure or 'quick-fix'. SATO solutions are specifically designed with consumer demand and the challenges of our users in mind, not just for today but looking forward to tomorrow. This ensures we have a more significant impact on wider global issues such as food waste and sustainability."
Maximising flexibility and performance
Of course, labels are also key components of any brand marketing mix, allowing manufacturers to differentiate their products and give end consumers the information they need – and increasingly expect. Precise application of high-quality labels is a core element in a good brand experience.
In today's competitive beverage market it is more important than ever to stand out from the crowd, and the growing variety of beverage types and bottle formats has made labelling increasingly challenging. As such, flexibility is an increasing priority for brand owners. Top priorities today are faster product and format changeovers, simple operations and optimised processes that use the same equipment for different label types and formats, maintaining uptime while catering to a fragmented market.
To meet these demands, Sidel has developed its new EvoDECO labelling solutions. Based on a common core and optimised design, they enable producers to deliver different SKUs. This might comprise several labelling applications in one multi-technology machine or a single labelling application through dedicated equipment, for optimised uptime, reduced footprint and low total cost of ownership.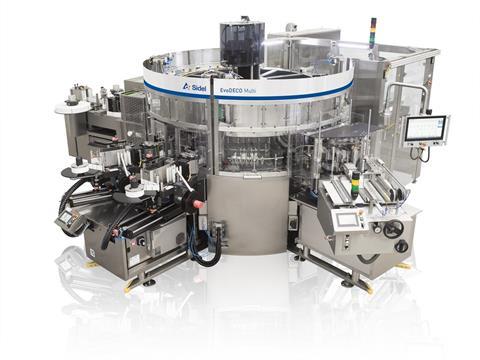 Sidel's most flexible labelling solution to date, the EvoDECO Multi, brings modularity into labelling. It offers a standardised carousel that can be equipped with up to four different labelling technologies: roll-fed, self-adhesive, cold glue and hot melt. This allows manufacturers to set up the machine for their unique labelling needs, as they can easily apply several types of labels to different types of containers and packaging materials (PET, HDPE, glass), of varying formats and dimensions (from 0.1L to 5L), on a single machine at speeds from 6,000 up to 81,000 containers per hour. Switching between various labelling modules is quick and easy, thanks to Plug & Play connections, offering producers the freedom of labelling choice and total flexibility.
Boasting four carousel sizes, up to three labelling stations and 24 configurations, the Roll-Fed can generate outputs of up to 72,000 containers per hour at an efficiency rate of 98 per cent. It is particularly suitable for water, carbonated soft drinks, juices and dairy producers. Using hot glue to apply wrap-around plastic labels, it can handle lightweight containers and ultra-thin labels, yet allowing for better glue control and distribution, together with reduced consumption.
The Adhesive labeller is designed to apply labels at high speed with increased efficiency. It can be equipped with six different carousel sizes, up to five labelling stations and 36 configuration possibilities. Able to apply plastic or paper pressure sensitive labels, it has been optimised to suit the needs of beer, water, food, home and personal care producers.
The Cold Glue labeller is available in six carousel sizes and can feature up to five labelling stations, making it easy to configure according to bottle size, output need and product type. Capable of generating outputs of up to 81,000 containers per hour, the solution handles partial pre-cut paper labels, as such it is particularly suitable for the beer, food, home and personal care markets.
Beating the cold
Boosting operational efficiency by performing equally well at -20° C as at normal temperature was the goal of Industrial Labelling Systems Ltd. The company has introduced FlexWipe, a new, versatile automated pallet labelling solution for the food industry.
Innovative thinking coupled with clever engineering by manufacturer Evolabel has turned standard print and apply equipment into multi-side labelling, extreme-temperature beating technology – a must for the frozen and chilled sector as FlexWipe can take employees out of the cold by removing operators from manually labelling pallets in uncomfortable conditions.
Phil Molloy, business development manager at ILS comments, "Pallet labelling solutions are not often at the forefront of innovation. We felt that pallet labelling hadn't evolved much over the past 15 years or so and saw a demand for a less cumbersome solution that provided safety for operators. Typically, the solutions on the market use pneumatics and can be quite slow and dangerous machines with a necessity for safe guarding."
With the food processing industry evolving quickly and digital manufacturing playing a greater role day by day, companies are now able to source a state-of-the-art pallet labeller that is simple and straightforward to install and functions well at low temperatures – offering a cost-effective alternative to building specialist temperature-controlled labelling areas within warehouses.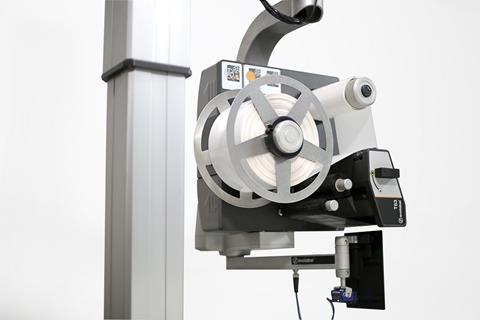 FlexWipe's twin-motor technology ensures totally accurate positioning of labels and a unique identity – key to multiple logistics functions such as shipments, warehousing, expiry dates and storage location, which enables companies to comply with the strict GS1 SSCC barcodes regulation.
It also eliminates the need for expensive guarding and has the ability to provide single pallet labelling on up to three sides or dual pallet labelling without requiring the pallet to stop, thanks to its motorised and controlled movements and lightweight arms. It can even handle situations where pallets are not sent down the conveyor with uniform spacing.
ILS's managing director Denis Brett said: "The FlexWipe is revolutionary equipment years ahead of its time. Many pallet labelling machines struggle to cope in extremely cold conditions but not the FlexWipe. This is a technical breakthrough that can help food companies operate at maximum efficiency in tough industrial environments."
Firms that have struggled with hand labelling pallets in freezing temperatures down to -20° C are being urged to think again about automation. FlexWipe operates comfortably in the harshest conditions and can help food companies achieve maximum efficiency with minimum staff. ILS believes that FlexWipe is the future for low and sub-zero temperature pallet labelling.