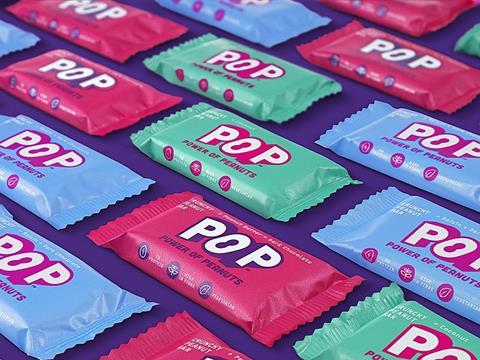 Peanut-based snacking brand POP has launched in the UK this month with new brand creation by branding agency B&B studio.
Available exclusively in Whole Foods before rolling out more widely across the UK, the peanut-focused snack bars are available in three flavours – Peanut Butter and Dark Chocolate, Raisin and Dark Chocolate, and Coconut.
After identifying an opportunity for a brand that stays true to a single core ingredient, B&B studio created a product strategy, visual and verbal identity for POP that celebrates the 'Power of Peanuts'. At the core of the brand is a mission to shake up the snacking category, championing the humble peanut and its power to do good – for the body, the planet and for people in need.
B&B has interwoven this mission into every touchpoint of the brand's visual and verbal identity, with brightly-hued packaging that is bursting with dynamic optimism and purpose to highlight the nutritional benefits of the core ingredients within each bar.
Shaun Bowen, Creative Partner at B&B studio, says: "We spotted an opportunity for POP to focus on a single concept – peanut-based products – that would carve out a unique platform in a very competitive category. This enables POP to really celebrate and elevate the modest peanut, championing its superpowers."
"Every element of the visual and verbal identity embodies this message, showcasing the core product attributes and brand values in a way that feels celebratory, not worthy. The vibrant visual identity has been designed with a full, three-dimensional impact, representative of the abundance of the peanut and the small but mighty POP bars."
Katja Thrane, POP co-founder, comments: "B&B captured the product attributes brilliantly in our new brand identity, with an eye-catching design that feels authentic. From the peanut incorporated into the 'O' of our brand name to a natural tone of voice, B&B kept our values at the heart of the brand and delivered a striking identity that expresses who we are and what we stand for."