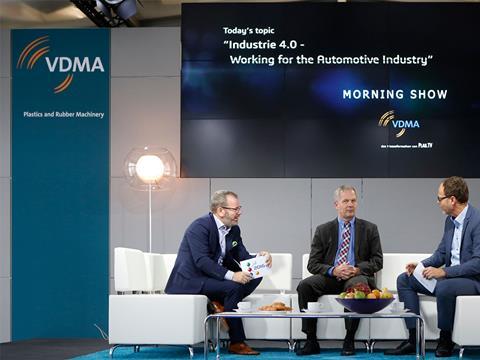 One of the most anticipated special exhibits at interpack 2017 focusses on the most disruptive technological wave hitting the packaging supply chain in decades. Hosted by VDMA (Europe's largest industry association), Industry 4.0 brings together presentations and applications to offer a comprehensive briefing on how automation and smart production is permeating into world of packaging. Tim Sykes speaks to VDMA's Vera Fritsche.
There are numerous conferences, studies and publications on Industry 4.0 and the Internet of Things, addressing the effects of digital transformation on machine manufacturers and users. Faced with the bewildering array of technologies and the scale of transformation in business practices, there is a vital emerging need for practical guidance on how companies can use and implement this digitalisation. In cooperation with industry partners, science and research, VDMA will be hosting a special presentation on the topic in the technology lounge of the VDMA booth. Exhibits demonstrate ideas and solutions for tomorrow's machinery (Smart Future).
"The focus is on our demonstrator, also called smart4i, where visitors can have engraved an individual label on a power bank," reveals Ms Fritsche. "'smart4i' presents state of the art technology implemented in an Industry 4.0 concept. An intelligent operator assistance system is a prerequisite for efficient and smart production processes. We will show such a system within our technology lounge.
"Another exhibit is devoted to security. The reliable and permanently safe operation of machines and systems that are networked worldwide must be guaranteed. You see, the topics dealt with at the special presentation Industry 4.0 are very diverse and we are already looking forward to many visitors, exciting talks and discussions.
Networked production
The networked factory is taking shape before our gaze. In this environment communication between man and machine and communication between machines play a central role.
"HMIs are the key to sustainability-oriented process management," remarks Ms Fritsche. "HMIs of the Industry 4.0 generation serve as an interface for the data acquisition, transfer and visualisation of individual machines or complete lines. Intuitive operation via multi-touch technology - similar to smartphones or tablets - makes it easy for the operator to deal with the supported work. Step by step, he is guided through the individual production workflows. The same applies to format changes, cleaning and maintenance processes as well as other procedures.
"Packaging machines and equipment are very complex, which increases the risk of errors and plant downtime. Continuous measurement and monitoring of the system condition (Condition Monitoring) is therefore a key function. In addition to integrated sensors for the detection of changes, continuous networking of the systems with fast data transmission as well as intelligent analysis and diagnostic programs are a prerequisite. Together, this makes the continuous acquisition, documentation and evaluation of plant, operating and process or production data possible in real time.
"The networking of the systems plus the data obtained by condition monitoring also add to the quality and variety of the possibilities of intervention. This is a new feature of remote monitoring and remote control of machines and systems. These are some examples of many of the great range of industry 4.0 options that we get to see at interpack."
Efficiencies
The interaction of plant technology, sensors, software and real-time communication makes it possible to gain data at many points in the plant. However, the abstract data on its own is of course quite useless. "They only gain value through intelligent algorithms which recognise characteristic patterns for certain events in the unsorted data and generate useful information from these patterns," says Ms Fritsche. "With this information, processes and events can be judged objectively, and this allows quick and targeted decisions and taking preventive action when an irregularity in production reveals itself.
"An important manifestation of this is the application of Industry 4.ro realise predictive maintenance. The trend is moving away from reactive and regular maintenance, with its fixed replacement intervals of components, to predictable, targeted and, above all, precisely predictable maintenance measures. This offers significant benefits for machinery manufacturers. These are a higher availability of machines and systems, significantly lower failure risks, higher operating and production reliability, as well as significantly lower maintenance costs.
Barriers
While the technological possibilities mushroom, large swathes of the user industries of packaging machines are still at the very beginning of digitalisation. Many machines and factories have been running for many years, if not decades. "These companies find it rather challenging to join up their old systems with the technical possibilities and the digital world of today," comments Ms Fritsche. "The effort required often clearly exceeds the expected benefits. Limiting factors in the transition to Industry 4.0 are: Machines often are not network-connected and cannot exchange data, individual machines are very heterogeneous with regard to their functional and technical configuration, an existing digital data collection is an isolated solution or the existing IT systems were created independently of each other and there is no correlation regarding master data and structure."
However, with retrofit solutions existing systems can be simply and cost-effectively connected to local condition monitoring solutions or MES systems. The resulting information enables plant operators to improve their own production processes or product quality.
"Regrettably, customers are often not ready to provide machine-related data from their production process to the packaging machine supplier. This creates another obstruction for the implementation of far-reaching industry 4.0 solutions. If both sides want to use the advantages of networking, it becomes necessary that they trust each other and work together even more closely than they already do today."
Industry 4.0 trailblazer
At the centre of this hive of innovation, VDMA is actively evangelising the opportunities of Industry 4.0 on behalf of its member companies. At the same time, the association serves as a network platform for dialog and exchange of experience. "Each one of the numerous studies and guides are mosaic pieces with which VDMA wants to contribute to the success of Industry 4.0," says Ms Fritsche. "We have pooled the expertise within the federation in the VDMA Forum Industrie 4.0. In addition, VDMA represents the interests of the mechanical engineering industry in all working groups and within the strategy group of the 'Industrie 4.0 Plattform', which is the largest Industry 4.0 network worldwide. The platform aims to identify all relevant trends and developments in the manufacturing sector and to combine them to produce a common overall understanding of Industry 4.0."