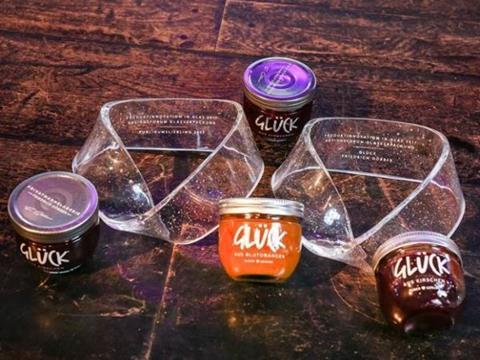 The unique and innovative design of the GLÜCK jar has given the Friedrich Göbber Company its first sector award. The 'Innovative Glass Product' award is organised by Aktionsforum Glasverpackung (part of BV Glas, the German Glass Association), where judges selected the preserve jar as this year's winner.
This coveted award, now in its fourth year, pays tribute to companies that package quality products in the sustainable material of glass. The stylish award was presented to the jam and marmalade maker, Friedrich Göbber Company on 18 May at the Trendtag Glass event.
The Ardagh Group manufacturing facility in Nienburg, Germany produces up to 3.3 million glass packaging products for the food and beverage market every day. One of the 150 products manufactured at the plant, and a recent addition to the portfolio, is the GLÜCK jar for Friedrich Göbber, a German jam and marmalade company. It has a unique and premium, consumer-friendly design that perfectly fits the shape of your hand.
GLÜCK – the German word for happiness – is the name of a new range of fruit spreads by the Friedrich Göbber Company. They approached the experts at the Ardagh Group in Nienburg and asked them to design a jar that reflected the product's name.
"When Göbber explained its initial ideas for a new jam jar to us we knew straight away it was going to be a new and unique jar in our production range," said Gerd Zurawsky, Senior Sales Manager Food at the Ardagh facility in Nienburg.
Ardagh's design team carried out all the design and development work in-house, creating several different concepts in response to the initial brief. The designs were developed through many different iterations, in close collaboration with Göbber, with Ardagh's designers applying their technical and creative expertise at every stage. The result is a pack which satisfies both the technical and functional requirements of the brief, to create a unique and highly premium preserve jar which stands out from other products on the retail shelf, thanks to its striking packaging. Its convex contours and extra-thick base make it the ideal shape to hold in your hand.
"We wanted a jar for our fruit spread that looked good and was practical to use. Market research told us that consumers prefer jars with large openings because the content can be spooned out without any spills, so ours are perfect for jam lovers," explained Marc Ebbert, Purchasing Director at Göbber. Not only is the Göbber jar aesthetically designed, it also has a unique presence on the supermarket shelves because the printed text is applied directly to the glass, rarely seen in food packaging.
More info: