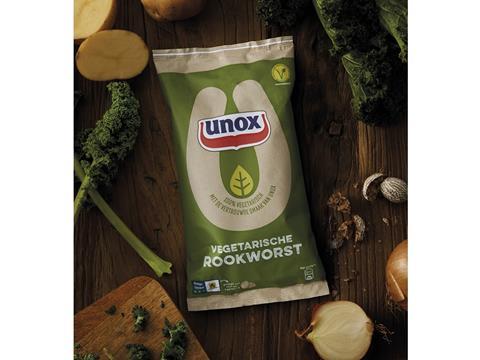 Unilever's Dutch food brand Unox, has launched its very first vegetarian smoked 'sausage' after four years of development.
The vegetarian 'Rookworst' experience is designed to address the consistent global fall in meat consumption and by a growing number of 'flexitarian' consumers – those who don't necessarily identify as vegetarian but look to limit their meat consumption (whether due to animal welfare concerns or indeed a desire for a healthier and more balanced diet).
Anthem Benelux rose to the challenge of presenting such a disruptive offer with a fitting disruptive design.
The new design for Unox's Vegetarian Rookworst needed to stand out from the rest of the Unox range and also be able to stand alone given its placement in store away from the brands core range. Promoting the distinctive 'U' shape of the Rookworst on pack and avoiding traditional use of product photography, Anthem aimed to create a bold and iconic design. For those familiar with the brand, the more simple and contemporary design is surprising – purposely so, in order to encourage consumers to re-appraise the brand more broadly and appeal to new consumer groups.
"We're proud to have helped the Unox team respond to and capitalise on changes in consumer desires and are excited to keep exploring design for a changing world as the brand looks to diversify their product range," comments Sara Jones – Design Director, Anthem Benelux.