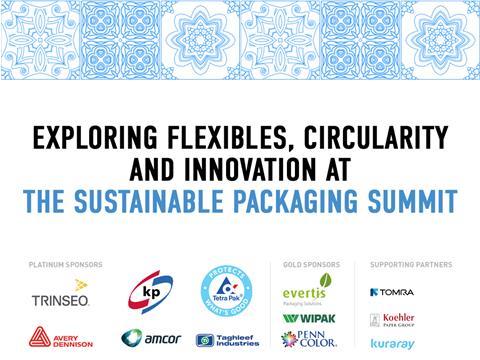 This week at the Sustainable Packaging Summit we will be bringing you five sessions - from interactive Zoom discussions with global thought-leaders to live debates with experts from across the value chain.
To watch all the events live, simply click here to register for free (or log in if you are already registered).
To put this week's events in your calendar, click here.
---
Interactive Zoom session: How can we ensure that packaging & labelling materials fit into the Circular Economy? - 30th November, 14:00 (CET)
In this session experts from Taghleef Industries, EREMA and UPM Raflatac will be exploring how redesign guidelines in flexibles and labelling can drive the circular economy. How much progress have we made to date in packaging and labels? What are the next challenges we face to improve the quality of PCR? Join our Zoom meeting to put your questions to our panellists:
Monica Batistella, Product Manager and Sustainability Advisor, Taghleef Industries
Clemens Kitzberger, Business Development Manager Application Post Consumer, EREMA
Mario Molinaro, Business Director Flexible Packaging EU at Taghleef Industries
Oona Koski, Sustainability Manager at UPM Raflatac
Simone Baldin, Business Unit Manager - Labels Europe at Taghleef Industries
Interactive Zoom session: an R&D perspective to the creation of recyclable flexible packaging - 1st December at 13:00 (CET)
Developing recyclable flexible packaging is one of our industry's central sustainability goals. What are the R&D challenges involved in creating new and viable mono-films that replicate the functionality of existing multi-material substrates? And what are the next steps on the innovation agenda?
As Amcor's VP R&D EMEA, Noemi Bertolino has a unique perspective on these questions. Join our interactive Zoom session as Noemi shares her experience and expertise and ask your own questions on design for recyclability.
Speakers:
Noemi Bertolino (VP R&D EMEA, Amcor)
Tim Sykes (Brand Director, Packaging Europe)
Where is the cutting edge? Reviewing the most important sustainable packaging innovations of 2020 - 1st December 18:00 to 19:30 (CET)
We bring together a panel of global packaging experts who have served as judges in arguably the world's two most prestigious packaging innovation competitions to review what we discovered in the Sustainability Awards 2020 and Packaging Innovation Awards. We'll be discussing the winners and the submissions that impressed us most, and also the bigger picture implications of the best innovations we've seen this year.
Speakers:
David Luttenberger (Global Packaging Director, Mintel)
Kim Houchens (Director, Customer Packaging Experience, Amazon)
Philippe Blank (Head of Circular Economy & Packaging Sustainability, Henkel)
Tim Sykes (Brand Director, Packaging Europe)
Interactive Zoom session: Circularity in PET and Tray to Tray recycling - 2nd December, 15:00 (CET)
In this interactive session we will be discussing the challenges around creating a circular economy in PET packaging. Innovation Director Ana Fernandez will share her inside view of the task of realising Klockner Pentaplast's vision of tray-to-tray recycling.
Join our Zoom meeting to share your questions on PET, upcycling and material recovery.
Speakers:
Ana Fernandez, Innovation Director at Klockner Pentaplast
Tim Sykes, Brand Director, Packaging Europe
End of life perspectives: how innovation is driving collection and recycling, and the implications upstream - 3rd December 13:00 to 14:30 (CET)
In this session we focus on end of life perspectives on the circular economy: what are the pressures recyclers and municipalities must deal with, what is the potential of emerging technologies such as feedstock recycling and cutting edge sorting, and how can coordination across the value chain drive up recycling rates and quality of post-consumer recyclate?
Speakers:
Tom Szaky (CEO, TerraCycle)
Antonino Furfari (Managing Director, Plastics Recyclers Europe)
Volker Rehrmann (EVP, Head of Tomra Recycling/Mining & Circular Economy)
Clemens Kitzberger (Business Development Manager Application Post Consumer, EREMA)
Scott Stamback (Managing Director, Penn Color)
Dana Mosora (Workstream Consultant, CEFLEX and Founder, ASASE Foundation)
Rui Silva (Chief Product Officer, Evertis)
The Sustainable Packaging Summit would not be possible without the help of its sponsors – all leading names in the packaging industry. To learn more about them, visit the sponsor section on the summit platform.