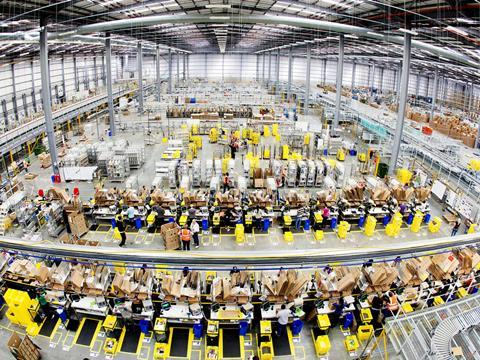 On 31 October Amazon's Frustration-Free Packaging vendor incentive program landed in Europe – initially rolling out in Germany, Italy, France, Spain and the UK, shortly after the North American launch. In the lead-up to Black Friday (the most hectic period in the calendar of the world's largest e-tailer) Tim Sykes spoke with Dr Kim Houchens, Amazon's director, Customer Packaging Experience, to discuss the aims and far-reaching implications of this initiative.
Across the EU's five largest economies vendors selling through Amazon will now be asked to package their products prior to shipping to fulfilment centres according to specifications that avoid the need for additional preparation before Amazon ships them. European partners that certify their packaging before October 2019 will receive an early adopter credit to help subsidise the investments in optimising their packaging.
According to Kim Houchens, who has been driving this initiative for the last three years, working on Frustration-Free Packaging is "one of those programs of a lifetime". So what is the significance of the program, which was launched as a voluntary scheme for over a decade before the recent introduction of incentives?
Minimal viable product
"Our customers have become increasingly aware of the environmental impact of their shopping choices, and as they use Amazon more and more frequently, they demand more of us to reduce the amount of wasteful packaging that comes into their house," observed Kim. "Sometimes a consumer defines wasteful packaging as anything apart from the product itself but of course the product has to have a label on it and arrive intact after bumping against other things throughout the supply chain. Our response has been to create a series of test methods and design principles to help our vendors understand the packaging requirements for the product to safely navigate its way from the manufacturing site (which may for example be in China) all the way through their distribution centres, our fulfilment centre process and the local postal services to the customer's home.
"You could say we're stepping in and asking, on behalf of the customer, what is that minimal viable product that makes packaging less wasteful. Customers are particularly sensitive to a box within a box – when a vendor supplies Amazon a typical brick and mortar retail package, we then have to put it in a corrugated box for shipping. The Frustration-Free Packaging program began several years ago as a result of listening to our customers' desire to stop that kind of over-packaging. We're now taking the extra step of incentivising this change, partnering with our vendors to drive this sustainability improvement."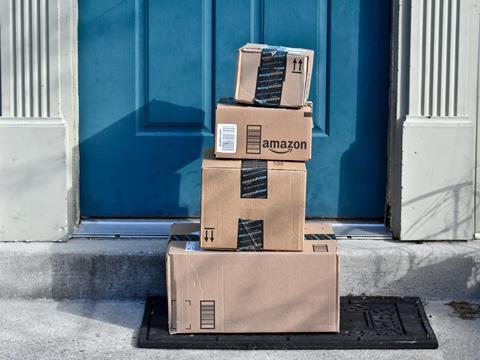 Vendors that optimise their packaging before the deadline of 1 October 2019, will receive a one-time US $1.00 early adopter credit on every unit received by Amazon – a recognition of the costs associated with bifurcating their supply chains to meet Amazon's needs. However, in a year's time Amazon will introduce a US $1.99 charge to those choosing not to participate.
"If the vendor decides it's not feasible to add the appropriate packaging, then Amazon will do it, and that cost will be delivered to the vendor," said Kim Houchens. "It may suit many of our smaller vendors, with a small proportion of sales going through e-commerce, to leave it to us to ensure the product is packaged properly. In the course of the next year we expect much of the industry to convert to the right packaging, after which there will be a cost increase for those vendors who have not done so."
At the moment the incentivised program applies only to packages sold and fulfilled by Amazon that are larger than 45.5 x 34 x 26.5 cm and/or weighing more than 12.3 kg. Such large items (e.g. electrical appliances, exercise equipment), which predominantly get ordered and shipped alone, tend to create the most egregious cases of over-packaging, as various shapes and sizes of bulky goods in retail boxes have to fit into larger, standardised overboxes. Meanwhile, with smaller items Amazon is shifting from corrugated boxes to flexible packaging, such as paper mailers and cushioned mailers, which are much less bulky.
Sustainability +
"The implications for lightening the environmental footprint of shopping on Amazon are clear, and this also eliminates several pain points for our customers," Kim Houchens remarked. "Excessive packaging impacts customers via the time spent opening boxes and dismantling them for the recycling bin, the size of their bin, the cost of kerbside collection. Frustration-Free Packaging is addressing customer convenience issues such as the 'wrap rage' from taking ten minutes to access a product you bought."
"From a supply chain perspective," she continued, "you can imagine that if a product comes from China in a smaller box, that generates fuel and space efficiencies all the way through the system – the inbound container ships, warehousing at our fulfilment centre, and delivery to the consumer. We see this as a triple win, as there are savings for the vendor, savings for Amazon that can be passed on to the consumer, and finally improved customer convenience."
Driving innovation?
Enjoying around half of the e-commerce market in the USA and a smaller presence in Europe, Amazon's increasingly proactive stance in setting packaging specifications will inevitably have an impact on the industry's R&D ecosystems. Whether the introduction and now enforcement of standardisation has a nurturing or stifling effect on innovation is probably too soon to tell. However, it's undeniable that Amazon has been leading advances in packaging development out in the wider marketplace.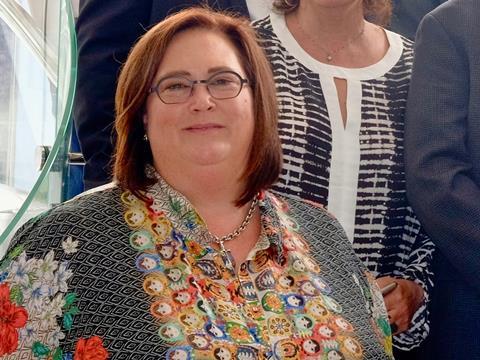 "Before bringing new specifications to vendors we have reached out to the packaging industry," Kim Houchens revealed. "It takes time to bring through packaging upgrades, particularly things like updating tooling, so early stage engagement with the industry is essential. I came to Amazon in 2015 with a background in rigid packaging and one of the first initiatives I worked on was dealing with the problem of leaks in products such as shampoo and detergent bottles. One of my first calls after joining was to reach out to lots of my contacts across the industry, invite them in and help them understand the pressures causing leaks."
These engagements prompted innovation projects among leading players in caps and closures, including a collaboration between Rieke and Amcor that resulted in the creation of a new pump (the Ultimate-E trigger sprayer) that is certified by Amazon as prep-free. The wider upshot is that vendors have a catalogue of suitable, leak-free packaging to choose from, enabling them to send liquids through the supply chain without requiring additional prep charges and additional layers of plastic wrap.
"That was a first step in the consumables segment, and following the work with packaging manufacturers big brand owners were among the first to run the leak testing we put forth," Kim Houchens said. "Once that initiative got rolling our team began to focus on the Frustration-Free Packaging program for the larger items – obviously, changes in corrugated packaging specifications don't have quite the same timelines and costs as replacing steel tooling."
Judging by these examples, it seems certain that Amazon will continue to exert a gravitational pull on the development of future e-commerce packaging. But could the influence extend further than we envisage? It's a scarcely guarded secret that Amazon has ambitions for the grocery market. Inevitably, Kim Houchens declined to speculate on this market, which is outside her remit, but she did offer a general insight into the culture of a trillion-dollar company that thinks deeply about packaging. "What Amazon does in the future one can best guess by looking at what they have done in the past," she concluded. "Our approach has been to experiment with things with the aim of 'failing fast' – making sure that we try multiple paths to insure we can deliver innovation for our customers."
Amazon has provided the industry with help in making packaging design changes by providing examples, test methods and instructional videos on the following national portals:
Germany: https://www.aboutamazon.de/nachhaltigkeit/verpackung/zertifizierung
Italy: https://www.aboutamazon.it/sostenibilità/imballaggio/certificazione
France: https://www.aboutamazon.fr/durabilité/emballage/certification
Spain: https://www.aboutamazon.it/sostenibilità/imballaggio/certificazione
UK: https://www.aboutamazon.co.uk/sustainability/packaging/certification