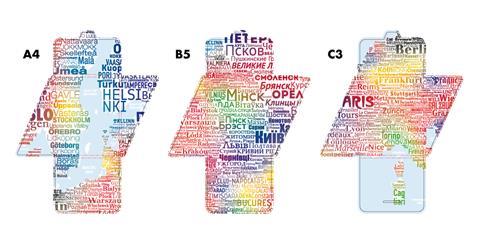 In the cover story for this month's magazine we reflect on our unprecedented collaboration with HP and LIC to distribute Packaging Europe in a digitally printed, multi-version corrugated box. Tim Sykes talks to HP's experts and thought leaders in brand innovation to explore the ideas that this project touches upon.
It strikes me that in packaging design right now we have the good fortune to be witnessing a perfect storm of technological advance and market conditions. Digitisation of media and retail channels is creating a need and a chance for brands to engage with consumers in new ways. There's an impetus to connect the dots between the various physical and digital moments of truth – and increasingly brand owners possess the data about consumers to personalise those engagements either side of the digital/physical divide. Meanwhile, rapid advances in the quality, agility and value proposition of digital printing means that marketeers can now look upon almost any packaging substrate as an agile communication medium. Already an important material for in-store communication, as well as being the default packaging in e-commerce, corrugated is widely regarded as the digital print market with the most exciting potential. Advances such as last year's launch of the HP PageWide C500 bring digital flexibility along with analogue print quality to corrugated board.
The branding opportunity
Gil Horsky, director of global innovation at Mondelēz, shared his views on the gravitational pull exerted by customisation.
"Today's consumers, especially the 'millennial' demographic, are expecting FMCGs to enable them to purchase and create personalised product experiences," he remarked. "The personalisation trend is linked to one's desire to share possessions and to demonstrate social badge value. In fact, it is becoming more and more important that products and packaging are designed upfront to be 'Instagramable'. Digital printing has proven to be an impactful technology for brand owners to execute packaging personalisation campaigns that can positively impact top-line sales and consumer engagement."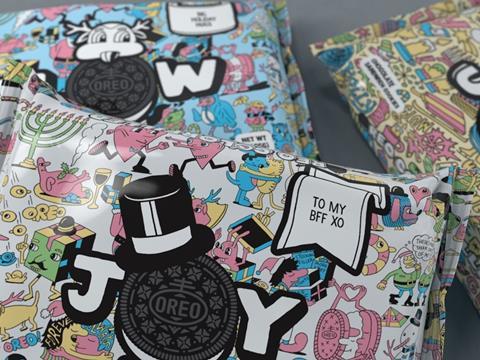 The personalisation trend is without doubt being fuelled by awareness that younger generations, submersed in digital media, are prepared to pay a premium for personalised content. But individualised content also attends to a more universal human need. "People love feeling unique or being magically surprised with a personal touch. That's why for example luxury brands hire calligraphers to craft personal notes. Digital print and mass customisation seem to be just the beginning of a big revolution," suggested Julie Asschenfeldt (creative director for packaging at VMLY&R).
I asked Julie how she responded to our collaboration with HP in this context. "Packaging Europe has launched a brand-new communication channel, and I'll tell you – I wish all my clients were so brave and pioneering! The consumer's landscape is transforming constantly. That's why brands should embrace the change and maybe even anticipate their most whimsical customers. Brands must surprise the consumer with exciting experiences and a fresh new vision possibly every day.
"You can now customise virtually anything, from the shape and size of boxes or envelopes… and still influencers show us that unboxing must be as exciting as the gift itself. From an often neglected object on a shelf to a full brand experience, packaging is evolving from three dimensions to further, hidden, emotional ones – and that seems to be the direction even here at Y&R, which recently merged with VML to offer 'a new brand experience'. So thank you, Packaging Europe, for paving the way once again."
How do brand owners get to grips with the possibilities provided by digital print, and how does digital print cater to the needs of brands? One of the world's best people to address these questions is Jose Gorbea, currently EMEA brand owner at HP, and previously responsible for marketing and digital operations at Mondelēz International.
"Maybe at the start marketeers thought of customisation in terms of the Coca-Cola campaign but now they are beginning to notice that digital print is available as a strategic tool," he told Packaging Europe. "We're teaching them to approach packaging as a media channel, alongside TV, Facebook, etc. When you encourage consumers to create stories via digital print, this generates earned media. You featured a good example of this in Packaging Europe magazine last year: where Trident chewing gum printed consumers' photos of different Mexican locations on its packaging, in the process generating more than 30 million social media impressions in Mexico alone. If you take this approach, it starts to look more like an investment than a cost in the P&L. However, this process is still in its infancy. People are aware of the possibilities but the market is in need of education as to the possibilities."

Applying this earned media principle to Packaging Europe's versioning experiment, Jose suggests that taking the next step to full personalisation would be key to maximising impact. "The idea of connecting different locations to build a bigger map, and therefore having something that is locally relevant but fitting within a global framework, is beautiful," he remarked. "As an extension, you could perhaps look to source more content from your readers. This project is a great execution of one-way communication, but once you have two-way communication, it takes you to the next level in terms of generating digital engagement."
The value proposition for corrugated
It's easy to get lost in the creative vistas unlocked by digital print, but the value of agility goes beyond enabling customisation, as Simon Goldsack (worldwide brand manager, HP PageWide Industrial Corrugated) likes to emphasise when he's talking to brand owners.
"We're cutting out a lot of process in comparison with analogue, meaning you can go to market much faster," he observed. "A brand owner can go from PDF to POS in a matter of hours, which is great if you want topical content from TV or billboards reflected in the packaging. But the other side of the coin is the efficiency that can be gained in the supply chain. Using analogue systems can mean ordering higher volumes than actually required for a particular campaign. So switching to digital print can involve reducing the need for logistics and warehousing capabilities. The brand can also print as many or few units as it needs. It can test the market and amend the artwork before committing to volumes, whereas with analogue print they would be stuck with the original artwork. The flexibility of being able to change should your product fail is extremely interesting."
The Italian converter LIC Packaging, which printed the bespoke boxes in our new collaboration, invested last year in an HP PageWide C500 digital press for corrugated, seeing unmet demand in the big retail channels, especially driven by the food and beverage sectors. Piero Bertoldo, president of LIC, commented: "In the past the cost and the speed of digital printing were significant limitations, but with the C 500 these have been overcome, so we can offer the technology to all our customers."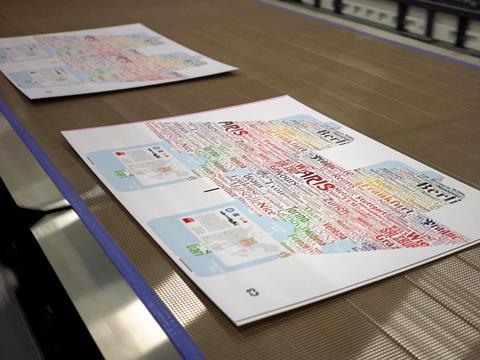 As Piero implied, an important step forward has been delivering the costs and speeds that make digital viable at mass production as well as short runs. The C500 on which this magazine's box was printed also boasts of offset-matching print quality, and food-safe water-based inks – an important characteristic when the shelf-ready packaging market for fresh produce is a key target.
"The combination of these breakthrough developments in the C500 provides the entire value chain (converter, brand and consumer) with a unique solution to the most demanding corrugated packaging requirements," suggested Cristobal Macedo, worldwide sales director, HP PageWide Industrial Corrugated.
Market openings
So which are the applications driving demand right now?
"Digital printing is increasingly the choice for not only displays but marketing related applications developed especially using digital printing possibilities," continued Cristobal. "These include segments such as winery and distillery, fruits and vegetables and SRP, which are normally sold at the retail space and help attract the consumer´s attention. Meanwhile, e-commerce applications are also growing strongly, as brands are very interested in effectively communicating within consumers' homes. Once again, it´s all about connecting the brand to the consumer - wherever the consumer is."
Simon Goldsack regards e-commerce as a market particularly ripe for a digital makeover. "Businesses have traditionally shipped their products in brown boxes and inserted some promotional media inside the box," he said. "They are now realising that consumers aren't paying much attention to the insert. This has led to experimenting with new strategies, such as printing content on the inside of the box that engages with the customer, for example to upsell or to prompt social media activity. We have brands that are successfully doing this by printing QR codes."
When we consider the parcels that typically drop on our doormat (with the exception of this edition of Packaging Europe), it's clear that e-tailers haven't yet gone far in this particular journey. Amazon is now occasionally using its packaging for promotions, such as the Christmas film campaign featuring The Grinch, but mostly we are still receiving those same old brown boxes.
Jose Gorbea feels that a tipping point may not be far away. "Once a big player like Amazon decides to do a big campaign that's truly personalised, for example around the giver or recipient of a gift, it will break the rules in that industry and we'll see lots of others emulating them," he predicted. "The question corrugated should be asking itself is how to monetise these possibilities. It might involve personalised coupons or personalised advertising. If you think about the volumes of parcels Amazon deals with, just imagine the opportunity of being able to deliver a billion personalised adverts across Europe on a monthly basis."
So it is reasonable to conclude that we are still in the early days of the corrugated transformation, envisaged by HP, from analogue to digital printing. We're in the eye of a perfect storm – and sometime soon we can expect it to make landfall.