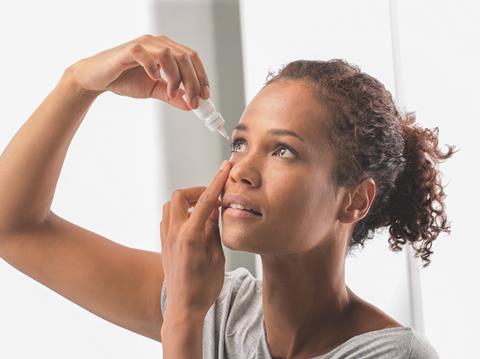 Targeting unmet consumer needs in the ophthalmic market, Silgan Dispensing, a global leader in the design, development and distribution of highly engineered pumps and sprayers in the pharmaceutical, home and beauty markets, announces the launch of Iridya™, a next-generation, multi-dose preservative-free eye dropper.
Iridya™ (pronounced "ear-id-ee-ah"), introduced today at CPhI Worldwide in Madrid, improves on existing eye dropper technology by combining advanced ergonomics and precise dispensing to ensure proper dosage. The device addresses key consumer pain points and ophthalmologist dosing challenges and works with a specially designed plastic squeeze bottle that appeals in form and function to pharmaceutical companies, doctors and patients.
"We're solving a consumer issue by offering our customers a preservative-free multi-dose eye dropper that is both easy to use and precise, drop after drop," said Ralf Hergenröther, Product Line Manager, Healthcare, of Silgan Dispensing.
The Iridya™ eye dropper ensures consumers an accurate dose and an easy-to-use design, while also providing safe delivery of ophthalmic medication. Its elongated tip provides greater accuracy when dispensing drops into the eye, and its low-squeeze force and ergonomic grip on the overcap makes it easy to use.
In addition, Iridya's™ sealing and barrier system to contamination is compatible with liquids from low to high viscosities, allowing for the use of preservative-free formulations for prescription and over-the-counter medications.
Iridya™ features a familiar round squeeze bottle design, but its elongated tip, which is unique to the preservative-free marketplace, ensures greater accuracy in drop administration to the eye. Its low-actuation force and ergonomic grip on the overcap are convenient for patients to use, including seniors. When compared with competitive designs and unit-dose droppers, Iridya's™ balanced system is easier to handle and provides patients with greater control when applying their drops.
Iridya's™ NO-JET™ technology ensures single doses, drop after drop, even if the bottle is squeezed hard, unlike competitive devices which stream or jet. Advanced Flow Control assures the user exceptional drop control for precise dosing, down to the drop.
Formulations are protected from contamination by an innovative system at the tip and other mechanical features within the device. Iridya's™ barrier integrity against microbes was verified in several challenge tests conducted by an independent laboratory.
Iridya's™ Advanced Flow Control System™ easily adapts to different formulation properties, and its standard configuration is compatible for a range of low- to high-viscosity formulations.
Silgan Dispensing is debuting Iridya™ at this year's CPhI Worldwide conference in Madrid. Attendees and media are invited to get a firsthand look at the eye dropper at stand 4C71 and at the InnoPack Innovation Gallery.