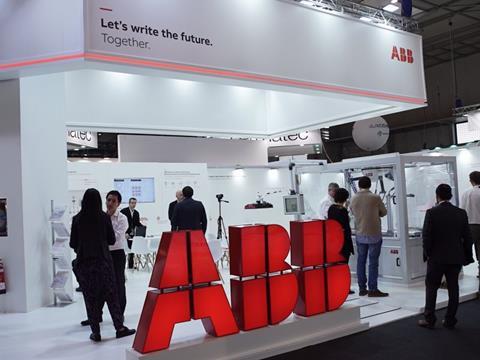 Flexible, secure and collaborative. These were the technological solutions presented by ABB at the 17th edition of Hispack. The company is committed to digitalisation through innovation and technology.
In a highly changing and demanding environment such as the packaging market, companies are forced to configure their production processes to allow them to be more adaptable to market demands. With ABB's automation solutions, industries are able to implement more flexible and agile processes, safer - both for operators and for food and final consumers - and more collaborative, enabling people and robots to work together, without barriers or safety cells, increasing productivity, efficiency and reliability.
All these principles were present at ABB's stand at Hispack, through a series of robots that, when viewed together, give a glimpse of the industry of the future. Among them was YuMi®, the first double-armed collaborative industrial robot. Since its launch in 2015, it has improved safety conditions for operators by allowing them to work hand in hand with the robot without the need for additional safety measures. In addition, YuMi® allows the formation of packaging and handling chains for all kinds of objects, from a Swiss watch, capable of returning to a single point in space with an accuracy of 0.02 mm (capable of threading a needle).
Another of the robotics solutions at the fair is the IRB 360 FlexPickerTM robot, a high-speed picking and packing cell with artificial vision, whose software allows for 100 to 150 cycles per minute, providing flexibility and speed to the processes.
Safety is also paramount for ABB, so the FlexPickerTM line incorporates low-voltage elements that are integrated into the robot. Especially Eden IP69K, which works under extreme temperature conditions between -40 and 70º C and supports up to 30 sensors in series and pressure cleaning, offering the highest level of safety. In addition, ABB drives and motors provide greater process configurability, allowing them to be used in wet or dry environments and making it easier to learn and operate the devices, thanks to elements such as a single integrated panel for the entire range.
Another benefit is efficiency, since ABB's automation solutions allow the speed of processes to be adapted to production needs, allowing better control, for example, of the starting and braking of transport lines, so that the product moves quickly on a line of bottles, although the speed is regulated so that when it stops, it does not collide with each other. Adjusting the maximum power to the production demand so that the electricity does not fall, or returning the excess energy to the grid to be used by the rest of the plant are other possibilities offered by the different novelties exhibited at Hispack.
In addition to collaborative robots, ABB is also able to configure collaborative environments, where the operator can interact with the machine without any risk. An example is the IRB 460 robot with SafeMove2, a solution that provides greater flexibility and saves space, improving productivity and safety, while at the same time allowing for closer collaboration between robots and operators by defining safety zones where the robot's speed is reduced and stopping zones where the robot stops when an operator is detected.
These and other automation solutions for the highest levels of performance and reliability are integrated into the ABB AbilityTM platform, into which ABB has already integrated more than 200 solutions from its commercial offering, and through which greater competitive advantages are achieved in increasingly demanding production environments. The main benefits include an increase in productivity of up to 200%, a reduction of up to 30% in energy consumption and a 30% increase in the product's useful life. ABB Ability enables ABB customers to know more, do more and do better together.
As part of Hispack, ABB also participated in the official conference program with a talk by Sergio Martin, Director of Robotics at ABB in Spain, who highlighted the collaboration between robots and humans and digitalization as a means to obtain smarter packaging and logistics solutions.
More info: