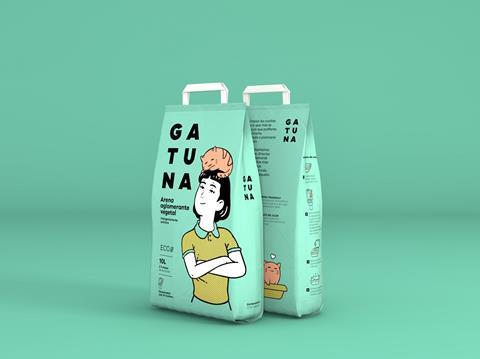 Carlos Román, Bold's Creative Copywriter, talks us through the concept that won Bold strategic design studio a Platinum Pentaward this year, with its fresh approach to shelf appeal.
How can we make a disposable product relevant in the eyes of consumers? That's the question we asked ourselves when one of our customers asked us to join him in a new project. He wanted to create a new brand of clumping cat litter. In this sector, packagings tend to highlight the product's properties and performance. We tried a different approach beyond the attributes: to be relevant in the consumer's life thanks to the product's effectiveness and building a relationship with them.
And so, Gatuna was born. The brand's name is a declaration thanks to its double meaning in Spanish. It means both "related to cats" and it's also a synonym of "astute".
In order for Gatuna to shine on its own, we knew we had to break the sector's rules. So we built a history around the empathy the product shows for the customer and their cat, placing them in the middle and leaving the clumping litter in the background.
The result is a pack that completely changes the approach to this kind of product, closer to customers, always showing complicity with them. At the same time, we reduced the information to prove that what matters is not the product's attributes, but how it can save the target time and effort to spend it where it matters most, with their cat.
Regarding the style, we wanted the main element to be an illustration to get away from the usual codes, cold and technological. This is how we communicate the special link between a pet and its human, and we simplify the product's instructions. It's a design thought to catch the consumer's eye in the supermarket shelf.
Thanks to this approach, Gatuna earned a Platinum Pentawards this year.