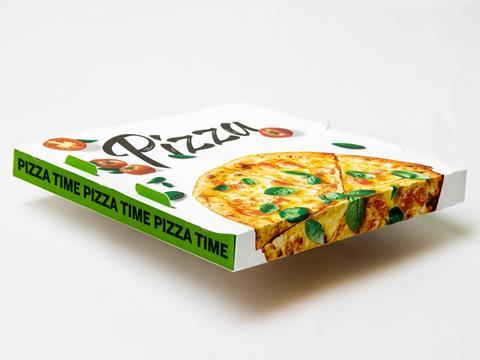 Metsä Board claims to have developed the world's lightest pizza box with a lightweight paperboard substrate – expected to reduce packaging weight, carbon emissions, and both material and printing ink usage.
Reportedly designed by Futupack and assembled by Adara Pakkaus, the food-safe pack is said to be a safe and sustainable solution for food products. It is a fully bleached, uncoated white kraftliner made from MetsäBoard Natural WKL Bright, compatible with flexo, offset, and digital inkjet printing, and available in a basis weight range of 70-160 g/m2.
According to Metsä Board's Sustainability Service, the pizza box is 38% lighter than traditional solutions made of recycled fibre and provides a 50% reduction in carbon footprint.
As its high whiteness claims to offer high print contrast, the box has been decorated with a high-resolution CMYK image, adding spot green and line black colours to create a bolder, more vivid design than traditionally possible.
Other possible applications for the material include all-white corrugated board, a top or reverse-side liner, and fluting. The E-flute solution claims to offer a high-quality and consistent printing surface for a large contrast range and high detail in process printing.
Additionally, its surface is uncoated – providing a matte texture that aims to enhance consumers' tactile experience of the packaging and '[open] up several possibilities for an uncoated kraftliner'.
"Despite the reduced weight, the E-flute corrugated board box's structure provides the box with the necessary rigidity and the fresh fibre material the necessary purity to carry a freshly baked pizza," explains Ilkka Harju, packaging services director at Metsä Board. "All the corrugated board layers are made of the same material, which makes the production logistics efficient too."
"Here in the Nordics we are committed to producing high-quality products while living in harmony with nature," adds Dr. Kai Lankinen, a researcher and an expert on ECG Expanded Gamut printing who provided consultation on the graphic design, prepress, and flexographic printing requirements of the pack. "Working with Metsä Board and their team has been inspiring.
"What sets this project apart is the focus on the entire cycle of the product, beyond just the liner board material, with a special emphasis on printing quality, efficiency, and sustainability. To achieve this goal, Metsä Board brought together professionals from various domains to collaborate.
"In the design phase, the team took into account the possibilities and requirements of flexographic printing, which lead to excellent print result, even though this is an uncoated paper stock."
This time last year, Metsä Board was awarded first prize in the 2022 New Wood competition for its paperboard box designed to package golf balls and serve as an insect habitat at end-of-life. It later supplied its dispersion-coated paperboard to create Fazer's recyclable, lightweight advent calendar.
Meanwhile, Huhtamaki North America is packaging burgers, fries, popcorn, and more in compostable and recyclable boxes and trays as the official "sustainable packaging provider" at Children's Mercy Park in Kansas City. The five-year deal aspires to reduce the stadium's environmental footprint to zero waste by 2027.
If you liked this article, you might also enjoy:
McDonald's Director of Sustainability in Europe on the company's approach to packaging sustainability
McKinsey on whether or not on-pack sustainability claims affect consumer spending
Perspectives from industry-leading experts on the EU's Packaging and Packaging Waste Directive revisions
A deep dive into the most important packaging sustainability trends and solutions